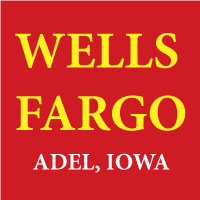 Courtesy of Wells Fargo Bank in Adel
Join us Monday, December 13th at 11am as Wells Fargo Bank in Adel presents a check to the Adel Community Stage Project.
This show of community support will bring the Adel Stage project to another landmark total.
Previously scheduled at the stage, the presentation has been moved indoors to the Wells Fargo Bank due to the winter weather.
Wells Fargo Bank- Adel
100 Nile Kinnick Dr N
Adel, Iowa 50003
Phone: (515) 993-5564
Website: www.wellsfargo.com