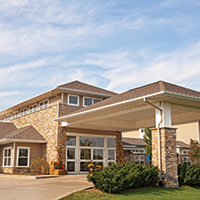 Courtesy of Watermark Communities/VillageLegacyPointe:
Bev Hagelberg's painting, "Ken's Home Place" was selected among hundreds of submissions coast to coast to be part of the national Expressions Calendar.
Her artwork is featured in the month of December 2015. The painting captures the home in Iowa where her husband, Ken, was raised.
Hagelberg began painting in 1990 and enjoys using water color and acrylics in her artwork. Hagelberg is a resident at The Village at Legacy Pointe in Waukee, a retirement community managed by Watermark Retirement Communities, the company that produces the annual Expressions calendar.
"We're ecstatic about the recognition of Mrs. Hagelberg's extraordinary work in the 2015 Expressions Calendar," said Tammy Olson, Executive Director at The Village at Legacy Pointe. "It's a well-deserved honor for this truly gifted individual."
For more information or to pick up one of the free calendars while supplies last, contact The Village at Legacy Pointe at 515-987-4100. 
Media Contacts:
Amy Barth, Executive Director
The Village at Legacy Pointe
515-987-4100
Katelin Schwarck
Hanser & Associates (for Watermark Retirement Communities)
Office 515-224-1086 / Direct 515-421-4136
About The Village at Legacy Pointe Retirement Community of Waukee
Located at 1650 SE Holiday Crest Circle, The Village at Legacy Pointe retirement community of Waukee serves up to 186 residents, with levels of care including Independent Living, Assisted Living, Memory Care and Rehabilitation/Skilled Nursing. Watermark Retirement Communities Inc., one of America's leading operators of senior living communities, owns and manages The Village at Legacy Pointe. Amy Barth is the Executive Director of the community. For more information, visit www.watermarkcommunities.com/VillageLegacyPointe or call 515-987-4100.
About Watermark Retirement Communities Inc. 
Watermark Retirement Communities Inc. is the nation's 16th largest senior housing operator. Watermark's commitment to creating extraordinary communities where people thrive dates back 30 years to when it opened its first retirement community in 1987. Watermark manages