Make plans to attend a luncheon and silent auction fundraiser on June 24th from 11:30 am to 1:30 pmbenefiting Tori's Angels in support of Mara Nevins and her family.
Tori's Angels Foundation is based out of Panora and raises funds to support the families of children who have life-threatening medical conditions in Iowa.
The idea of Tori's Angels Foundation began in July 2010 with a community breakfast fundraiser to assist with medical expenses of then five-year old Tori, who has had multiple heart surgeries.
The fundraiser was so successful that the idea of the foundation to help other children with life-threatening medical conditions was born. Tori's Angels Foundation was created in June 2011 and was named for the community "angels" who generously supported Tori.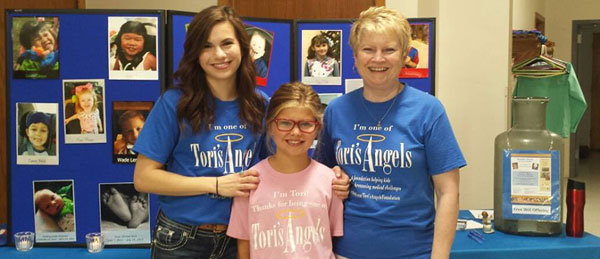 Tori's Angels is run solely by volunteers. There are no paid employees within the organization so 100% of the contributions made go to the families. The Foundation pays for all medical expenses not covered by insurance, including travel expenses to treatment (airfare or mileage, hotels, meals), co-pays, deductibles and prescription medicine. Tori's Angels Foundation currently supports 21 area children and their families.
The luncheon and silent auction benefit on June 24th at ADM High School will highlight 4 year old Mara Nevins of Adel who is currently undergoing chemotherapy treatment for anaplastic empendymoma, an aggressive brain tumor. Mara underwent a surgery in December to resect the brain tumor and then had 33 rounds of radiation in Iowa City before beginning chemotherapy treatment at Blank Children's Hospital in Des Moines.
All the money raised at the event will go to support Tori's Angels Foundation.
If you would like to donate an item for the silent auction, please contact Erin Sedars at 515-975-3995 or drop off at Adel Family Dentistry at 1202 Greene Street during regular business hours. View "Tori's Angels-Mara Nevins" flyer for additional information.
Tori's Angels is a registered 501 (c) (3) non-profit charity, so donations made are tax deductible as allowed by law.