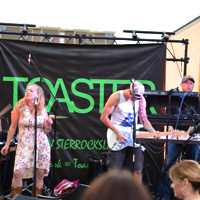 Adel Partners Chamber of Commerce:
Join the Adel Partners Chamber of Commerce for a FREE evening of entertainment, Sponsored by Raccoon River Rentals.
On June 23rd, Toaster will be playing from 7-10 pm at the Stage and Pavilion.
Toaster covers a wide range of artists from Led Zeppelin, Sweet, Van Halen, and Cheap Trick, to Poison, Ted Nugent, Rick Springfield, and ACDC.
BYOB – Bring your own Basket of food and snacks, drinks regular or adult and enjoy the evening. Don't forget lawn chairs, friends and family.
Sponsored by Raccoon River Rental and Lincoln Savings Bank

Adel Partners Chamber of Commerce
PO Box 73, 301 S.
10th Street, 2nd Floor
Adel, IA 50003
Email: chamber@AdelPartners.Org
Website: www.adelpartners.org
Facebook: AdelPartnersChamberOfCommerce