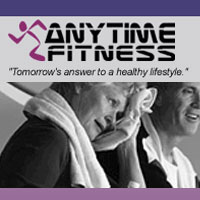 It's that time of year again. With New Year's nipping at my heels, it's time for this traveler to loose some excess baggage!
Luckily, Anytime Fitness in Adel can help. Anytime Fitness is located on the square and is open, well, anytime! With my busy schedule, there is no routine, I exercise when I can. As a member, I get a swipe card that lets me in at 4- am or pm!
You're most likely to find me on an elliptical, the ultimate exercise machine for the multitasking minded. The three TV's above the window help the time slip away as I work off holiday goodies.
When I need some extra encouragement, I arrange a session with an Anytime Fitness trainer who helps me target my trouble spots and get the most out of my workouts.
Well, it looks like I've got some time to spare, better grab my gym bag and head to Anytime Fitness.
Best of luck with your own New Year's Resolutions! – Terry
Anytime Fitness Adel 
215 S. 6th St., Suite A 
Adel, Iowa 50003 
Phone: (515) 993-3333 
Email: adelia@anytimefitness.com 
Website: www.anytimefitness.com 
Facebook: anytimefitnessadel