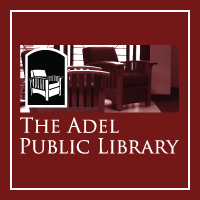 The Adel Public Library is an incredible facility with amazing employees. Of all the cities I have traveled to, none can boast a better library than Adel.
Walking up to the building is an impressive blend of modern and traditional design against the historical backdrop of Adel.
As I walked up young readers seeing the library for the first time said "Wow!" I have to agree with their sentiment.
The two story building has books in ever nook and cranny, offering a wide selection many libraries only dream about. The downstairs is dedicated to children with an Underwater themed play area, tallies for the Summer Reading Program, and short bookshelves to accommodate even the youngest of readers.
Upstairs you'll find Hardbound Fiction, Non Fiction, Paperbacks and the Teen Reading area. Each section is dense and diverse, with well read and brand new books in each section. I browsed the computerized card catalog, finding all but one book on my list.
[nggallery id=16]
Taking a look at the Teen Reading section shows how much the Adel Public Library cares about it's readers. The floor is covered with fun chairs and the walls display volunteer opportunities, suggestions of books to read, and advertise upcoming events.
The best thing about the library, besides the near endless supply of reading materials, is the staff. Every person who volunteers or works for the library is friendly and helpful. As I checked out I offhandedly mentioned the book I couldn't find. The librarian took down the name and title of the book and told me the library will borrow it for me!
It's been two weeks since my last visit, time to return this set of books for another. I hope to see you there!
– Terry
Adel Public Library
310 S 10th St.
Adel, Iowa 50003
Phone: (515) 993-3512
Website: www.adelpl.org