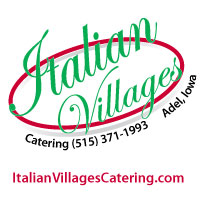 I love Italian food. Give me a bowl of pasta, a great red sauce, garlic bread and I'm one happy camper.
Now, I like "real" Italian food, not industrialized, re-heated frozen dinners in microwave safe trays.
When I am craving Italian food I want al dente pasta, homemade sauce, and fresh mozzarella cheese.
I'd heard good things about a family owned place in Adel from so many people that when I moved to town I rushed to try Italian Villages.
I stopped by for lunch and was impressed by the full menu of options, salad bar, and pizza buffet.
Over the years I've tried a few different things, and they have all been great, but I always return to my favorite sandwich, the Soprano. This oven baked sub is made with sausage, capicola, pepperoni, and a great garlic sauce. I highly recommend it!
I love that sandwich, but some nights, I want steak. A big slab of Iowa beef, seasoned well, and cooked just how I like it- without destroying my kitchen.
When I am feeling carnivorous, I head to Italian Villages for their 14oz. Ribeye steak. Served with a run at the salad bar, your choice of fries, baked potato, or pasta and a bread stick, this will fill up even the hungriest of diners.
Recently, Italian Villages in Adel started serving breakfast on the weekends, which is awesome! Nothing starts a cold winter day better than a hot cup of joe and a plate of homemade biscuits and gravy.
Well, maybe a gooey caramel cinnamon roll, or a mountainous omelete. Of course homemade corned beef and hash is hard to pass up too, especially when Adel Villages makes it with their famous recipe.
That Italian sub is calling my name. I guess I know where I'm heading for lunch, Italian Villages in Adel.
I hope to see you there!
– Terry
Italian Villages
715 Main St.
Adel, Iowa 50003
Phone: (515) 993-3180
Facebook: ItalianVillages