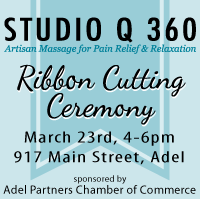 Courtesy of Studio Q 360:
You are cordially invited to the Studio Q 360 massage clinicon March 23rd from 4-6pm to celebrate a Ribbon Cutting Ceremony on behalf of the Adel Partners Chamber of Commerce!
Recently, the studio has undergone a facelift, featuring three contemporary wall murals to enjoy. 
The massage room is now a warm, soothing oasis with an air purifying Himalayan salt lamp, table warmer, and wide selection of music.
During the Ribbon Cutting Ceremony, meet with Licensed Massage Therapist Katrina Brocka to discuss her therapeutic techniques and philosophies, as well as the inspiration for the new look and wall murals. The Ribbon Cutting Ceremony will take place at 5pm.
Check out the new look and sign up to win free massage packages as we celebrate an exciting chapter for Studio Q 360 at 917 Main Street in Adel, Iowa!
Katrina Brocka, LMT
Studio Q 360
917 Main Street
Adel, IA 50003
Phone: (515) 689-4754
Email: Katrina@StudioQ360.com
Website: www.StudioQ360.com
Facebook: StudioQ360