This month we spoke with Stuart Oxer, new owner of JM Short, CPA, now known as Blue Oak CPA in Adel.

In 1988, John Short started a small certified public accounting office in Adel. Over the next 28 years, John and his staff helped the community through tax season and much more. After so many years of dedicated service, John began looking towards retirement. Enter Stuart Oxer, CPA.
Stuart Oxer grew up in North Carolina where he went to school to become an Actuary, and worked for his parents' manufacturing plant as a cost accountant.
After several years, Stuart decided to move to Arizona to pursue his MBA and CPA credentials. It was there, in the early 90's, that Stuart met his wife Wendi, a pediatrician and Ames, Iowa native. 
 
"We lived in Arizona for a couple years then moved to Georgia a little closer to my family. Our kids were 4 and 2. I did not know this when we got married, but my wife told me it's Iowa law: when you have kids ready for kindergarten you have to move back to Iowa. So we moved back here, lived in Urbandale, and then moved up to Ankeny because I was the CFO for a manufacturing plant in Story City. Last year, my wife said we could move south, so we decided to move to Clive. We really enjoy it here."
 
Stuart has worked with companies of all shapes and sizes throughout his career. 
 
"I really like working for businesses. My accounting career started by working for a couple of Fortune 500 companies and then I switched to working with smaller companies." 
"I've worked in the food industry, plastics, and metals. I owned, with some partners, a plastic injection molding plant in West Des Moines; I've been involved in an animal vaccine company, and a lot of other smaller companies. I also went into nonprofits for a little while, from a management side. Then I decided I wanted to get back into doing accounting. So I did some consulting work with the Meskwaki Tribe in Tama; helped with some of their audits, compliance work, and with some small companies they own."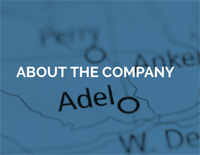 "I started looking around for different places and John's business popped up on the radar. I really liked his business, it was a good situation for me.  
 
Most importantly, it had a really great staff [Kathy Sinn, Payroll Manager and Denise Walter, Audit Manager] that have been with the company for more than 10 years. John's going to stay on for a few tax seasons, so we don't lose that institutional memory of stuff that happened years and years ago.  
 
To continue our growth, we opened a satellite office in Urbandale. We also hired Kathy Casey as our Receptionist, Michael Kremske as our Staff Accountant, and Lori Dillard as our Sales & Marketing Manager."
 
Stuart Oxer and his team are proud to present Blue Oak CPA to the community as a symbol of stability and creativity. Since the sale in October 2016, Stuart has been well received in Adel; clients feel reassured that their business is in good hands. Stuart's favorite thing is to save people money- whether that's finding ways to reduce a family's tax bill or helping a business find ways to cut costs and return those savings to their family and the community.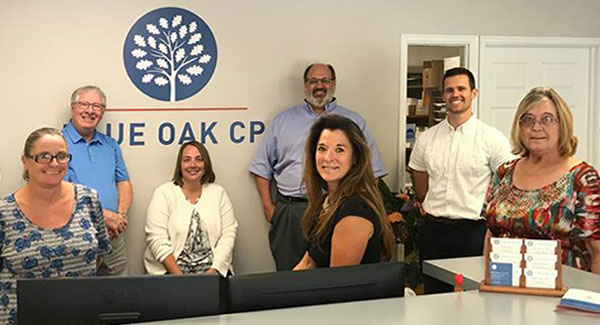 "We've got a great staff here- they know what customers need from a tax and payroll side. It's not a big company that's inaccessible; we're right here on Main Street. If you've got questions, stop in. It's always better to ask the question. Every question is a good question because it's on your mind. Once you've made a purchase or sold something, it's often too late to worry about how it's going to affect your taxes. We have tons of people that call us and we're happy to answer our client's questions, usually in 24 hours or less."
 
Stuart believes strongly in supporting humanitarian causes, both in the office and his personal life. Blue Oak CPA is a member of the Adel Partners Chamber of Commerce. Stuart is an active member of the Adel Rotary Club, Board Member of Prevent Blindness Iowa, and works with theRefugee program at Lutheran Services of Iowa. 
 
"These are folks from war torn areas in Asia and Africa that have come to the US several ago, they've all been vetted, learn English in cities like Chicago and New York, and then they come to work and settle in Iowa. I help them out with small business needs and taxes. A lot have started farming for their local communities and to sell at different farmer's markets. Many are daycare owners who take care of children whose parents work second or third shift at factories in Des Moines. A lot of these folks have young kids and want to be home with them. This way they can have their own business, pay taxes, save money, and eventually have own houses."
 
"With the Adel Chamber, its important to get involved because that's how you can grow your business and help the community. It's important to support the local businesses, and as Adel grows, hopefully our existing businesses will expand, and new ones will join the community, and we will increase the number of local jobs. That way, the people don't have to commute to Des Moines and they will work and live in Adel and support the local community. To me, that would be the perfect situation where more and more places move out here and people drive less."
 
If you want to grow your business while minimizing taxes, make payroll or bookkeeping easier, or have need some tax help for you or a relative, Blue Oak CPA is here to help.
Blue Oak CPA
911 Main Street 
Adel, IA 50003Phone: (515) 993-4640
Website: www.blueoakcpa.com
Facebook: BlueOakCPA