This month we had the pleasure of interviewing Shelley Horak, the Executive Director of the Dallas County Public Health Nursing Service.

Dallas County Public Health Nursing Services
offers services to all 80,000 people living in Dallas County.
It is a common misconception that only the elderly or those of low income are eligible for care.
The very active Home Health Program services those in need of home-based assistance following hospital stays, medication management, at-home Physical, Occupational, and Speech therapy, and personal care.
This accredited program through the ACHD (Accredited Commission for Health Care) is only one piece of the puzzle.
Within Public Health Services is a myriad of services such as the immunization program making strides to quell the spread of diseases by providing vaccinations for children, teens and adults.
The Maternal and Child Health Short-Term Home Visitation program has a dedicated Registered Nurse and Social Worker who work to ensure the best birth outcome possible, connect parents to all the services they need to stay engaged, and provide the education and support needed for growing families. This program is also accredited through Lutheran Services' Iowa Family Support Credentials.
Disease Control and Prevention monitor and investigate potential outbreaks of communicable diseases such as Tuberculosis, Shigella, Hepatitis B, and food borne illnesses. Should an outbreak occur, the Emergency Preparedness programs would coordinate with Dallas County and neighboring health officials, hospitals, EMS, law enforcement, and dispatch to remedy the situation. A preparedness exercise will be conducted March-May of this year.
There are also substance abuse and risk behavior coalitions such as Dallas Country for Positive Choices, a group that works with the Sherriff's office to help teens learn safe driving habits and avoid substance/tobacco use.
How do these 25 people accomplish so much? Shelley reminds us that it takes a village to accomplish these goals.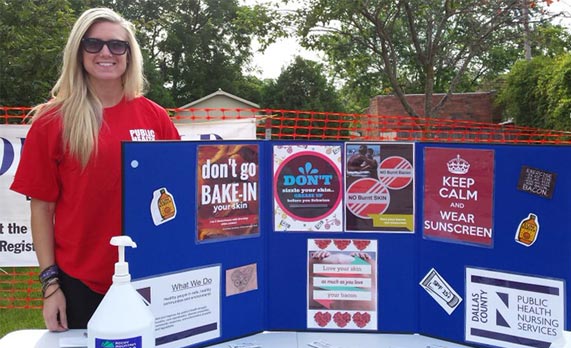 Sunscreen booth during the BaCoon Ride
"We try to look at health holistically. We do none of our work by ourselves. All of our work is done with our partners at Planning and Zoning, with business leadership, schools and municipal leaders. There is an ownership in Dallas County of health among the people that live here. People want to live in a healthy and vibrant community. We support community gardens, bike trail expansions, art installments; things that have to do with social connections. We try to make sure that as a community we are in touch with each other and that we support each other in living our best lives."
These programs and initiatives are selected based on community health needs assessments conducted every 5 years. During this assessment, community members were asked to complete electronic surveys. Municipal leaders, business owners, and focus groups met to provide input to the process. The team also uses statistical data collected independently and from other state organizations to formulate their initiatives.
The 2011 Needs Assessment outlined three areas of focus: nutrition and physical activity, access to care, and mental health. To address nutrition and physical activity, the Hunger Free Dallas County Coalition was formed and continues to educate regarding food insecurity and the quality of food available.
Generation Wellness continues to intervene with issues related to mental health. Dallas County's Community-care coordination is a model program in Iowa, awarded one of only 6 Innovation Model grants through Iowa Medicaid with the aim to create a system of care across Dallas County Healthcare providers.
This program reviews the social determinates such as transportation, Fine Arts, and other quality of life initiatives where we live, work, and play as they affect our health in conjunction with our behaviors.
The 2016 Community Needs Assessment will be released in the next month and will continue to focus on community-chosen initiatives effecting Dallas County.
It is important to remember that Dallas County is expensive to live in. Shelley points out that if you are a single parent with one child, your take home pay must be around $41,000 to afford the basics.
When families struggle, working 2-3 jobs to bring home the basics, it has an effect on our economy and our health.
There is an increase in stress, not as much time with children, and not as much time to see the doctor or dentist.
Shelley believes this is the most significant reason she continues to fight for these programs.
"I was a Recreation Therapist, with training in mental health and substance abuse settings. My husband at the time was a Chiropractor- I was working in a Health Promotion Center, did a lot of volunteer work, was a stay-at-home mom, and helped at the chiropractic office. An opportunity to become a member of the Board of Health in Chickasaw County arose and I did that for several years."
"Life changes; I noticed after my divorce that it has always been my nature to want to help my neighbors. 9 years ago my kids and I moved to Dallas Center- we didn't know anyone in the area. I was a single mom with three kids making $25,000 a year. Not everyone has the support I had to make it work. I started at Des Moines University and graduated from the Masters of Public Health program in 2009. I then worked for the Department of Public Health in Maternal and Child Health for three years before this job became available."
"During the interview I remember telling the Board of Health this job would be a way for me to give back. I felt so supported during that time, being a single mom in this growing, changing community. I said, 'this is my dream job, this is what I want to do, and for all the right reasons.' I think it is very important for us to take care of our neighbors. I think there are plenty of people that are not able to advocate for themselves in the healthcare system, I'm able to do that- that's why I do what I do."
"I don't do this work alone; I simply get to manage a group of people that also do this work for the right reasons. They are all very talented, passionate people that do a very nice job of advocating for people."
Shelley and her team appreciate being located in Adel, noting that city and community leaders are focused; wanting to make good decisions for the community as a whole.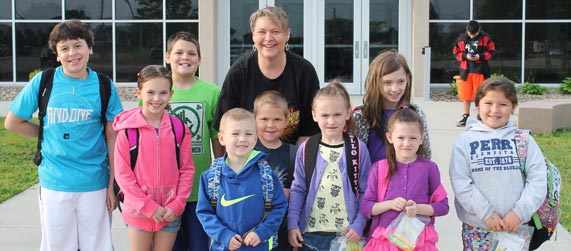 Facilitating the walking school bus_ Perry Elementary
Dallas County Public Health Nursing Services moved its downtown Adel offices, along with DHS and Community Services, to the new Human Services campus north of the Fairgrounds. This location, though away from the center of town, is centrally located within the County to encourage more people to make use of its plentiful services. The campus is also shared with Environmental Health Services, which is governed by the same board as the Dallas County Public Health Nursing Services. Shelley hopes this proximity will encourage further collaborations between the agencies.
"Public Health is focused on the health of the population and that pop includes all 80,000 people in Dallas County regardless of age, income, or system. There is something that we offer everyone from this agency. I encourage people to look us up. To get to know more about us and find out what we can do together."
"I want to stress that we can't do our work by ourselves. We really need to support of our community members, we really do need the support of our city and business leaders to continue to meet the needs of our growing community. To establish the healthy environment that we all want."
Check out Dallas County Public Health Nursing Services Facebook page to learn how you can support their initiatives and fellow community members working towards a healthier Iowa.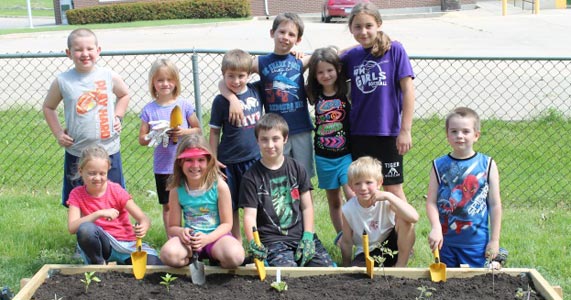 Helped start a garden at One Hundred Acre Woods Child Care Center – De Soto

Dallas County Public Health Nursing Services
Shelley L. Horak, MPH, CHES, CPM
Executive Director
25747 N Avenue, Suite C
Adel, Iowa, 50003
Phone: (515)993-6955
Email: shelley.horak@dallascountyiowa.gov
Website: www.co.dallas.ia.us/department-services/public-health-home-health
Facebook: Dallas-County-Public-Health-Nursing-Services-1750700708490691/