This month we welcome Salvage This, a repurposed home goods store in Adel! We spoke with business partners John Hintz, Jen Boyden, and Jodi Alsted Mann about the new store, and the new friendships, it has forged.

The story of Salvage This began several years ago when Altoona artist Jodi Alsted Mann started refurbishing furniture using chalk paint. Chalk paint is used to create an aged, distressed appearance, often considered a "shabby chic" look.
Jodi states, "chalk painting became huge about 3 years ago and I really liked the look. I really wanted some of it but couldn't afford it, so I started making it myself."
After mastering her techniques, Jodi began selling items on Facebook under the Salvage This brand, featuring the iconic wiener dog design.
Meanwhile, Iowa native John Hintz retired from the 101st Airborne Division, met Kansas City native Jen Boyden, and opened Warrior Tattoo Studio in Waukee.
The studio, named for John's 20 year military career, has flourished in Waukee and become a major contributor to local charities. You can see John's dedication to service in this 60 Minutes interview.
In April when John and Jen purchased a house in Adel, John wanted a specific look for his decor and started following the Salvage This Facebook page. At the same time, Jen wanted to open a store in Adel reminiscent of her own hometown roots.
John remarks, "I wanted to put cool furniture in it; something different, old furniture, something recycled, to make it unique. Every time Jodi posted a picture it sold in 4 minutes.
Finally I got ahold of her and said, 'I'll take your next few pieces of furniture, and by the way I'd like to start a business with you. Jodi brought the furniture to my tattoo shop in Waukee and that's when we got to chatting.
I said, 'I'm serious. You're out of your garage for 7 years, and your stuff is incredible! We've got the money, and you've got the talent. We'll figure it out.'"

Wood Shaving Letter Signs
Jodi and her husband talked it over and 6 weeks later, John, Jen, and Jodi opened the door to Salvage This at 215 S. 6th Street in Adel. In short time, the trio have found friendship and joy working together. John calls himself the financier- working full time at his tattoo business to keep the doors open. Jen is called the management because "she's in charge of everything else." Jodi is the onsite talent- refurbishing custom pieces, decorating the store, and teaching others how to refurbish their own items with Chalk Paint.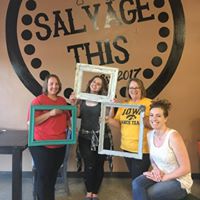 Chalk Painting classes are held Tuesday nights for $75.
Customers bring their own beer or wine, select a rundown old frame to refinish, and learn how to master the step-by-step process of chalk painting like a professional.
Jodi shares her knowledge about good, better, and best paint brushes, the difference between cheap and expensive waxes, and techniques to prep and distress your final product without damaging it.
Chalk painting classes are a fun night out with the girls or guys. Your finished frame is an item you will be proud to hang in your home.
The repurpose store is inspired by the Kansas City West Bottom Shop. The large space is divided into small vignettes to highlight the handmade jewelry, antique furniture, vintage items, lawn ornaments, rugs, soaps and more of the 20+ artisans and makers from Kansas City, Adel, De Soto, Waukee, Altoona, Pleasant Hill, Jewel, Schleswig, and beyond.
Jen is very excited about the new store and the opportunities it brings to Adel.
"We just joined the Adel Partners Chamber of Commerce and we will be having a ribbon cutting August 30th.
I think the #thinkAdelfirst mission is super smart because it is easy to be used to shopping outside of Adel. I'm a 'shop local' kind of person.
We offer a range of price points and styles. We know Adel is growing and all these new homes need to be furnished. People have different styles and tastes. Our goal is to support the makers and create a place where you can truly shop local. Not only supporting a local business, but supporting people who are making items from start to finish."
The new store has been drawing customers from across the metro area to Adel.
Customers spend hours in the store, enjoying a beverage, the scenery, and the two wild and crazy ladies that dance, roller skate, and laugh the day away like sisters.
Fair prices, an enjoyable atmosphere, and truly one of a kind items make Salvage This exactly the kind of store Adel has been craving.
Salvage This
215 S. 6th St. * Adel. IA 50003
Phone: (515) 229-6406
Email: SalvageThisAdel@gmail.com
Facebook: Salvage This