This month we feature interviews with Rendezvous Restaurant & Lounge owner Doug Kintzle, and Manager Suzanna Sternquist,

who joined the bar in July 2014, to find out what makes this hometown bar one of Adel's favorite hangouts.
The Rendezvous Restaurant & Lounge in Adel, or The 'Vous", as it is called by regulars, has long been the talk of the town.
With it's recent facade updates, multiple interior changes and "Wednesday Steak Nights" many have come to claim the local haunt as their own.
According to local legend, Owners Doug Kintzle, Jay Alexander, Todd Millang, Rob Klinkner first discovered the bar at one of those bike/ steak nights.
The RAGBRAI teammates enjoyed picking out their own steak or chicken and grilling it with fellow cyclists on the spacious outdoor patio.
The well known meal also comes served with toast, baked potatoes and a choice of sides. When they heard the bar was for sale they joined together to buy the hot spot in 2012 situated near the Raccoon River Valley Trail.
"We've all known each other from RAGBRAI. Rob, Todd, and myself live in Des Moines; Jay lives in Colorado. Really our commonality is RAGBRAI and social biking. People believe we own multiple bars together, but we don't. However, Todd does own two other bars in Des Moines. Todd saw the listing and approached several of us on the bike team about buying the bar as a sideline venture. We knew the bar was associated with the bike trail. Since Todd had experience in the bar business, we decided to go ahead and buy the Rendezvous." Doug Kintzle
The bar holds a familiar charm; like the neighborhood Cheers where you're treated like a regular on your first visit. There is a giant bear to pose with, dressed fashionably for every season. There is a large caged beaver, too, for your photo bomb needs.
"I brought the bear from my brother in-law years ago to ride along on our RAGBRAI bus. Then we reconfigured the bus interior and I had to find a new home for it -so "Banjo" now greets customers as they come in the door. In one corner is a framed stained glass window that was part of the original bar exterior, and found during the façade project. I hung it up as part of the history of the bar." Doug Kintzle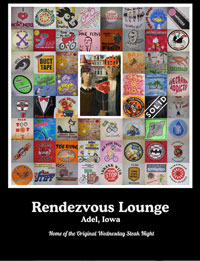 There is a daily Happy Hour from 4-6pm. Game Night Thursdays offer 50-cent wings and $3.00 Tall Boys.
The bar features painted ceiling tiles depicting RAGBRAI teams and state icons by Doug. A compilation poster of favorites is available for sale at $15 each.
All of which goes towards a warm, inviting atmosphere the owners and employees are proud to cultivate. With its traditionally casual ambiance come common misconceptions, too. Steak nights are open to the public, not just cyclists.
The lounge is family friendly during the day by offering traditional grilled and fried fare with kid's meals for lunch from 11-2 and dinner from 5-9pm.
Suzanna wants Adel to know that the bar is also available to rent for fall and winter occasions.
"We rent the bar out for special events Saturday nights after 7pm. It includes the bartender, and the kitchen could be available for an additional cost." Suzanna Sternquist
Suzanna states that Rendezvous Restaurant & Lounge supports the local economy by shopping at Fareway, which is some of the reason the bar is getting recognized for it's food. Rendezvous Menu.
Another is the happy clientele. Regulars say the bar has the best burgers and pork tenderloins around. And the staff says their patrons are the best.
"It's the clientele- we have some great regulars here. It's a small town you know, so everybody's so happy and polite. I think Adel is adorable and charming. I love coming to work everyday." Suzanna Sternquist
In mid-November the bar hosts a Holiday Customer Appreciation night with free food and appetizers, and drink specials. Follow the bar on Facebook to find out about events and deals at Rendezvous-Lounge.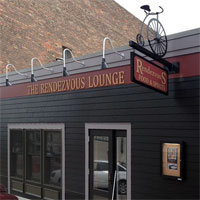 "With the renovation of the façade our intent was to open it up, and bring in some outdoor lights, to make it more friendly and inviting.
When I was a kid growing up, the local bar was a place where you could hang out.
My dad could have a beer and I could have a meal- a place to have some food and an adult beverage and have a good time.
For the folks in Adel we offer a family friendly environment for lunch or dinner and a place to relax with an adult beverage during happy hour or late evenings.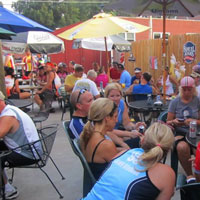 We also attract folks from the larger metro area who enjoy dropping in for a drink, a bite to eat, or a place to hang out along the bike trail.
People enjoy the small town atmosphere.
We're excited to be in a growing community like Adel with a its iconic courthouse, traditional town square and growing businesses.
The City has invested heavily in the downtown and we were very excited and thankful to be included in the recent façade improvement plan. We look forward to serving the community and appreciate everyone's patronage." Doug Kintzle
Rendezvous Restaurant & Lounge
909 Main St
Adel, IA 50003
Phone: 515-465-5854
Facebook: Rendezvous-Lounge/117340444952244