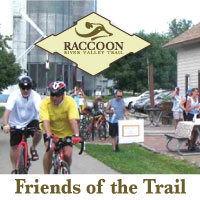 Adel Partners Chamber of Commerce:
Join the Trail Committee on Saturday April 8th at 9:00 am. They are meeting at Patrick's to start the clean-up process.
Please park in the lot by Next2New. This will keep Patrick's parking lot available for their customers.
The committee will be walking the bike trail from east bridge to 18th street and picking up trash and readying the trail for spring bikers. Help us keep Adel beautiful and welcoming to our many walkers and bikers that use the trail. We will proved trash bags and safety vest–bring friends and family along with gloves and be prepared to have fun as well as make Adel great.
Questions may be directed to Adel Partners Chamber of Commerce, (515) 993-5472, chamber@adelpartners.org.
Adel Partners Chamber of Commerce
PO Box 73, 301 S.
10th Street, 2nd Floor
Adel, IA 50003
Email: chamber@AdelPartners.Org
Website: www.adelpartners.org
Facebook: AdelPartnersChamberOfCommerce