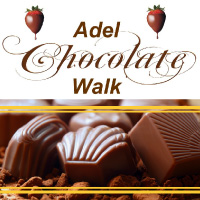 Posting courtesy of Jacque Johnson:
Thank you to everyone that joined in on the fun for the Adel Chocolate Walk, held annually on Mother's Day Weekend.
The destination stops this year were; Adel HealthMart, Adel Quilting & Dry Goods Co., Decor Adel, Brick Street Books & Cafe, Brick Street Bakery, and Studio Q 360. Each participating business drew for a $50 value basket of goodies.
The 2017 Winners Are:
Adel Healthmart – Nicki Stajcar – Adel
Adel Quilting & Dry Goods Co. – Nikki Hunt – Adel
Brick Street Bakery – Jessie Chumbley – Waukee
Brick Street Books & Cafe – Jessica Delp – Adel
Studio Q 360 – Kathy McEntee – Waukee
Décor Adel – Leslie Balsay – West Des Moines