This month we spoke with Privé Nails & Tan in Adel to learn more about the nail salon, just in time for sandal season.

The nail salon at 628 Nile Kinnick Drive was formerly known as Daisy Nails, which opened in 2013.
The location was well known for great customer service and the latest trends in nails with a large selection of designer colors, fashions, and techniques.
In March 2015, Daisy took a break from the salon to spend time with her family and newborn baby. She sold the business to her friend Pi Lovana, graduate of Capri College in Cedar Rapids, who has been a nail technician since 2004.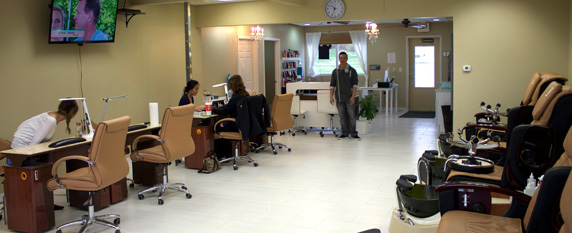 Pi, his fiance Alissa, or "the brains as we call her", and Kotianna are excited to carry on the top quality customer services in Adel. He chose to keep the Daisy Nails name during the remodel and is happy to say "Now we can call it our own shop. Privé, pronounced 'pre-vay' is French meaning private or exclusive," which speaks to the high quality services and products.
Privé Nails & Tan now offers a much bigger location to facilitate more service stations and product displays. The shop now offers 5 pedicure massage chairs, multiple nail stations and two tanning beds.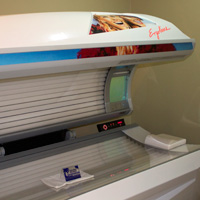 With the additional space, Pi and his team asked clients what services they would like added to the shop. Tanning was the number one request.
The salon now has two tanning beds to service client needs. Bed #1 is high pressure and slightly larger with advanced technology. Bed #2 is slightly smaller with lower pressure – it is ideal for clients who are new to tanning and fair skinned.
Monthly tanning packages are available for a base fee plus per session charge. For those that tan regularly, this is less expensive than the pay-per-minute option.
"We have lots of lotions, goggles, and stickers to make sure you have everything you need to tan. Goggles are very important; you've got to have those. We evaluate your skin type, when you last tanned, figure out how long you can tan, and which bed is better for you. We like offering tanning-its been busy- and helped us a lot."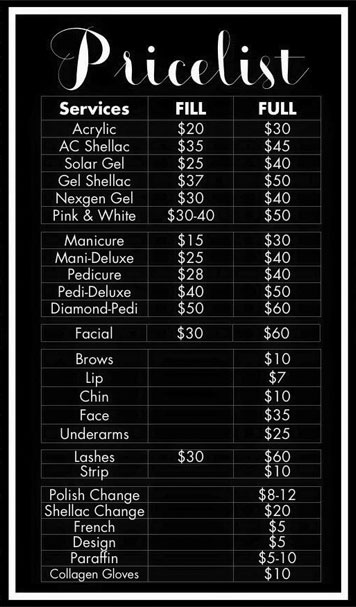 Privé also offers facials, lash extensions, waxing services, manicures, pedicures, and collagen gloves.
Nail services include Manicures, Acrylic, Gels, Shellacs, and Pink and Whites – also known as French tips.
Privé Nails & Tan offers three different pedicures. The exclusive Diamond Pedicure includes all organic products starting with a foot soak that bubbles and looks like crushed diamonds, foot masque, hot stone massage, and hot towel wrap.
In addition to services, the nail salon sells professional quality haircare products, nail polish, and more.
If there is a specific product you use that you can't find, just ask! Privé Nails & Tan can get it for you.
Privé Nails & Tan is open 7 days a week, Monday-Friday 10am-7pm, Saturdays 10am-5pm, and Sundays noon-5pm.
It is always best to make an appointment for salon services- the three person team is looking to hire 2-3 additional nail technicians to keep up with demand. Walk-ins are welcome for tanning services, as the wait is usually less.
Pi currently live in Des Moines and commutes every day. He likes Adel, yet being raised in a bigger city, he's still getting used to the nuances of small town life.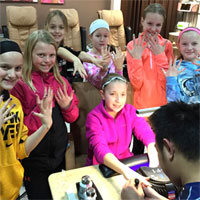 "We love what we do- and we're fun to be around- its always a good time here. At Privé Nails & Tan we're here to satisfy our customers.
The people in Adel are really great, really friendly. I never knew Adel was here until we came to look at Daisy.
Then I started working here, and we have really nice people coming in. Adel is a good community."
With a big smile and hearty laugh he adds, "but I'm still trying to figure out why everything is closed on Sunday!"
Prive Nails & Tan
628 Nile Kinnick Drive S. Ste 4.
Adel, Iowa 50003
Phone: (515) 993-4020
Facebook: facebook.com/daisynailsspaadel