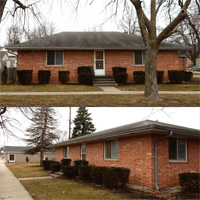 Courtesy of Adel Dental Group:
The Adel Dental Group is growing and we need to expand!
We are selling the home located at 202 Nile Kinnick S. in Adel, Iowa for $1.00.
Home needs to be moved by April 1st, 2017. Moving expenses and all legal matters will be buyer's responsibility.
Home will be sold AS IS on current property.
We have a quote from Bissell House Moving Company in Waukee.
Please call Diana ASAP for more details at Adel Dental Group 515-993-4333
Adel Dental Group
Dr. L. Eric Anderson, DDS
Dr. Lona Kouri, DDS
Dr. Ames Cross, DDS
216 Nile Kinnick Dr S.
Adel, IA 50003
Phone: 515-993-4333
Email: AdelDentalGroup@gmail.com
Website: www.AdelDentalGroup.com
Facebook: adeldentalgroup/