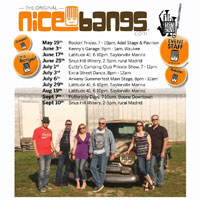 Adel Partners Chamber of Commerce:
Join the Adel Partners Chamber of Commerce at the Stage and Pavilion for a FREE evening of entertainment Rescheduled to June 2nd, Sponsored by Landmark Companies Inc.
Nice Bangs will play from 7-10 pm.
Nice Bangs is a fun party band that covers a wide variety of music from the 60s to today, although public outcry has demanded a disproportionate number of rock songs from the 80s.
BYOB – Bring your own Basket of food and snacks, drinks regular or adult and enjoy the evening. Don't forget lawn chairs, friends and family.

Adel Partners Chamber of Commerce
PO Box 73, 301 S.
10th Street, 2nd Floor
Adel, IA 50003
Email: chamber@AdelPartners.Org
Website: www.adelpartners.org
Facebook: AdelPartnersChamberOfCommerce