Dear Friend of Adel,

The Friday after Thanksgiving is usually our time to get a live tree, bring it home and spend two days decorating it. This is a 35 year tradition that almost came to a stop this year. Due to an unforeseen scheduling mishap neither of us was free this year.

Fortunately one of our daughter's and grandsons volunteered to get the tree, in my truck of course. About 4:00 they returned with a beautiful Douglas fir. The grandson was smiling from ear to ear as he "helped" me carry in the tree and set it up. The whole time telling his mother that they had to set up their tree tonight. He was happier than if Santa had delivered his toys a month early.

It was one of those scenes that reminds you of the spirit of Christmas. Adel has its own way of increasing your Holiday cheer and we've tried to capture as many of them here as space allows. So in the spirit of a child we wish everyone a Merry Christmas!

Terry is back with another interesting journey from our famous little explorer. On a side note, Terry has Legal on a speed dial, read on to see why those words make me cringe... As if that wasn't expensive enough, legal spent another billable hour checking to see if it's really 3000 miles. For the record, it is, check Google to verify, just like they did. Thanks Terry!

So grab a cup of coffee, there's a lot to cover this month and we look forward to seeing you in Adel.



Chris

Consider Adel, Iowa for Your Small Business

This month we spoke with community members to discover the benefits of opening a business in Adel, Iowa.

We had the pleasure of speaking with City Administrator Anthony Brown and Director Deb Bengston of the Adel Partners Chamber of Commerce for their unique insights into the community.

Why Adel, Iowa?

Before choosing a zip code, businesses must conduct market research in their field to determine the ideal climate for a new location. Markers for success include nearby competition, the local labor market, plans for future growth, proximity to amenities, level of safety, and acceptance of new businesses.

For some business owners Adel's appeal is its hidden away nature. Adel's small town charm comes from the interest of its community members. The shop owners who keep a pulse on local politics and join boards to help make the community shine; the patrons who generate grassroots buzz around new construction and wait in line opening day to check out the happenings; the hopes and best wishes of all for the new arrivals who make Adel their own.


This was the case for Adel's Lincoln Savings Bank's VP of Mortgage Lending, Tim Canney.

"I love Adel. It's still it's own town with its own identity.

We have all the great things of a big city with all the charm a small town brings. I think we've landed in a good spot!"

For others, it is the dense, 20-mile radius of various suppliers within 4 nearby counties and the Des Moines metropolis; the large number of commuters who drive to, through, and from Adel each day, and the powerful growth the community has seen over the past 10 years including the designation of the Downtown Square to the National Registry of Historic Places, the Brick Street Renovation project, and recently completed $1 million Facade Project.

Some of the main drivers of this growth have been the Residential Tax Abatement program and new housing developments around town.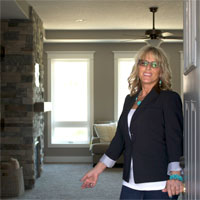 "There are currently three plats underway in Bailey's Grove. Plat 3 just off Highway 169 offers 46 home-sites and is basically sold out!

Plat 5 is the closest to the water park and offers a total of 35 home-sites, which have sold quickly with remaining lots still available. Plat 4 is the newest edition and offers walkout, daylight, and flat lots. There are 48 sites including treed and cul de-sac options. There is still time to think about owning or building your new home in Adel." Kim Leyland Rest Estate.


"Adel has experienced steady but significant growth over the past five years due to the strength and appeal of the ADM School District and the City's residential tax abatement program.

The City recently wrapped up work on an approximately $1 million downtown revitalization project.
New growth will depend on several factors, including the local economy, the status of the residential tax abatement program, and the demand for new homes.


We're anticipating similar growth over the next few years as future plats and developments are filled in. In addition, the City is in the final phase of completing an update to its Future Land Use Plan. This document, which includes a detailed map of Adel and the surrounding areas, will help the City plan for future growth.

We are in the process of updating our website and hope to offer more tools and resources in the future." Anthony Brown, Adel City Administrator.

In the end, businesses will need to do their own research to find out if Adel is the right place for them. Resources available include the Small Business Administration, Iowa Department of Economic Development, and locally, the Adel Partners Chamber of Commerce.

The Adel Chamber sponsors several networking events throughout the year including Morning Mixers, free music concerts in the summer, and the popular Adel Sweet Corn Festival each August.

Tools and resources include the Chamber's Business Directory and Community Guide, available for free at the Adel Partners office.


"We're here for Adel, we're here to help Adel grow and prosper. We're here as a business resource to help businesses grow by connecting and developing relationships by presenting opportunities to network.

Adel is a growing community. Its true, economic development will follow housetops- when we see 250 building permits issued in the past 5 years; we're growing." Deb Bengston of the Adel Partners Chamber of Commerce

New businesses can research these and other resources by contacting the City of Adel and Adel Partners Chamber of Commerce.


City of Adel
301 S. 10th St.
Adel, Iowa 50003
Phone: (515) 993-4525
Fax: (515) 993-4527
Website: www.adeliowa.org
Facebook: CityofAdelIowa





Adel Partners Chamber of Commerce
PO Box 73, 301 S. * 10th St. 2nd Floor
Adel, IA 50003
Email:
chamber@AdelPartners.org
Website:
www.adelpartners.org
Facebook:
AdelPartnersChamberOfCommerce
LSB Christmas Open House Dec. 4th

Lincoln Savings Bank would like to invite you to our Christmas Open House.

Friday, December 4th from Noon to 7:00 pm. Appetizers and refreshments will be served all day.

We look forward to seeing you!

Lincoln Savings Bank - LSB Financial
805 Main Street
Adel IA 50003
Office: 515-993-5663
Website: www.LSBmortgage.com
Facebook: www.facebook.com/LSBAdel



Lincoln Savings Bank, Member FDIC

2015 Giving Tuesday Dec. 1st

Created four years ago to harness the power of social media, Giving Tuesday this year is December 1, 2015.

It is always the first Tuesday after Thanksgiving. This is a global event that helps to honor and promote small acts of kindness via on-line donations to local charities.

This year the "charity of choice" in Adel for Giving Tuesday is the Good Samaritan Food Pantry(GSFP).

Because of the county's phenomenal population growth over the past few years, GSFP is experiencing more individuals and families seeking basic food needs on a weekly basis says Manager Celia McCollum.

"In addition to helping feed elders and working families who cannot make ends meet, this year we have partnered with The ADM Schools to begin a "backpack" program for elementary students who go home over a weekend to a house where there is little or no food," she said. "We are now packing nearly 70 backpacks a week which has greatly increased our budget."

Good Samaritan is urging all who hear this message about Giving Tuesday to spread the word via social media (Facebook, Twitter, Pinterest etc) to make an on-line gift to the Food Pantry now or on Tuesday December 1. They have a connection to PayPal on their website at www.adelfoodpantry.com and if you do not have a PayPal account you can use your VISA or Mastercard too.

"We will be grateful for any size contribution," according to Celia, "We operate on a very modest annual budget so every gift is important and will be well-spent. In our 33-year history we have become very smart shoppers. We know where to get the most from our dollar, whether that be the Food Bank of Iowa or a local business who gives us a substantial discount!"

Please join DiscoverAdel in supporting our long-time community asset the Good Samaritan Food Pantry.



You can read more about the concept at www.givingtuesday.org

Good Samaritan Food Pantry of Adel
United Methodist Church
115 South Tenth Street
Adel, Iowa 50003
Phone: (515) 423-0753
Website:
www.adelfoodpantry.com
Facebook:
Good-Samaritan-Food-Pantry
Santa at the Adel Fire Department Dec. 5 & 12

Santa is visiting the Adel Fire Department

The Adel Fire Department will be welcoming Santa to the station on December 5th and 12th, from 10am - 2pm, to help the department fundraise for Ice Rescue Equipment and a Fire Gear Washing Machine.

Families will be welcome to come and get a picture taken with Santa, enjoy hot chocolate, snack on some popcorn, and see your favorite fire trucks!

The event will be free will donation. We are looking forward to seeing you!



Adel Volunteer Fire Department
102 S. 10th St. * Adel, Iowa 50003
Phone: (515) 993-6723

Lincoln Savings Bank Closes on Land in Adel

Lincoln Savings Bank purchased land, formerly known as the Fuller's BP, in Adel on Wednesday, November 4, 2015.

The bank intends, pending regulatory approval, to make this location their new, full-service branch, complete with a drive through and ATM.

Lincoln Savings Bank is currently located at 805 Main Street. The new branch location will be on the northeast corner of Greene Street and Nile Kinnick Drive.

"Opening a free standing branch has been in the works for quite some time. I'm excited to finally share the great news to our customers and friends in Adel," states Branch Manager, Tim Canney. "We are so appreciative of the Fuller family for providing us the opportunity for this location and cannot wait to start building."




Once all regulatory approvals have been received, Lincoln Savings Bank plans to start construction in 2016 with an expected open date for early 2017. The Adel location has had exponential growth and continued success in the 2 ½ years of its existence.

"We're a family here and we consider every one of our customers as part of the family here too," says Canney. "We know the drive through and ATM will be particularly appealing to both our individual and business customers, as it offers wonderful convenience and accommodates our customers' busy lives. We're here for them."

The bank continues to grow its footprint in the greater Des Moines metro market and looks forward to continuing their success with this new branch location.


Lincoln Savings Bank - LSB Financial
805 Main St.
Adel IA 50003
Office: 515-993-5663
Website: www.LSBmortgage.com
Facebook: www.facebook.com/LSBAdel
Lincoln Savings Bank, Member FDIC

ADM Athletic Hall of Fame Class Announced

The ADM High School Athletic selection committee announces the 2016 Hall of Fame Inductees.

The 2016 inductees:

- Tom Fuller - Class of 1978
- Lee Norman - Class of 1970
- Mike Steele - Teacher/Coach
- Jerry Torgerson - Class of 1953

The ADM Alumni Association would like to congratulate these inductees & thank those that took the time to nominate them.

The inductees will be honored at the 19th Annual ADM Alumni's All Class Reunion, August 12th, 2016 in the ADM High School Auditorium in Adel.

There will be a reception from 4:00 p.m. to 9:00 p.m. in the 7-8 Commons Area. The ADM Athletic Hall of Fame Ceremony starts at 7:00 p.m.

Congratulations to the 2016 ADM Athletic Hall of Fame Inductees!

Become a Friend of the RRVT

It's that time of year when you are probably thinking about holiday gifts or need a last minute tax write-off.

That makes this the perfect time to become a Friend of the Raccoon River Valley Trail!

Your donation helps the Raccoon River Valley Trail Association (RRVTA) in its mission of promoting and marketing the trail and the trail communities.

You will receive 1 annual trail pass for each $25.00 donation you make. (passes issued by Dallas, Guthrie & Greene County Conservation Boards). Making a donation is easy! Simply Donate Today!

You can help support the trail by becoming a "Friend of the Trail".

To find out more information please visit our website raccoonrivervalleytrail.org.

Raccoon River Valley Trail Association (RRVT)
14581 K Avenue
Perry, Iowa 50220
Phone: 515-465-3577
Website: www.raccoonrivervalleytrail.org

Adel Holiday Open House

Dec. 4th

The Adel Partners Chamber of Commerce invites you to participate in the 2015 Business Holiday Open House!

The Open House runs from 5:00-7:00 pm with recipe cards and samples at Chamber businesses, civic organizations, and churches.

Santa will be at the Raccoon Valley Community House.

Storefronts throughout Adel will be decorated for the holidays as part of the 11th Annual Storefront Decorating Contest.

To tie into the "Wish Upon a Snowflake" theme, each participating business will receive a set of luminaries to be displayed outside during the event.


Luminaries will help light the way to participating businesses and are being decorated by daycares in the Adel area.

The children will have the opportunity to take their luminary home at the end of the evening.

Adel Partners Chamber of Commerce
PO Box 73, 301 S.
10th Street, 2nd Floor
Adel, IA 50003
Email: chamber@AdelPartners.Org
Website: www.adelpartners.org
Facebook: AdelPartnersChamberOfCommerce

Open House for Studio Q 360 Dec. 4th
Help welcome a new business to downtown Adel!

Join Studio Q 360 and licensed massage therapist Katrina Brocka at the new Adel location Friday, December 4th from 5-7 pm at 917 Main Street.

Grab a sample of Hydrotherapy Salt Scrub and enter to win free massages and more!

Don't forget to pick up s gift certificate or two as massage increases productivity, reduces stress, and makes a great gift for the one you love, or love to work with.

Studio Q 360
Katrina Brocka, Licensed Massage Therapist
917 Main St
Adel, IA 50003
(515) 689-4754
Email: Kbrocka@gmail.com
Facebook: StudioQ360

2015 Festival of Trees Dec. 6th

The Adel First Christian Church will host their annual Festival of Trees on Sunday, December 6th.

Enjoy a Bottomless Bowl of Soup, Delectable Tearoom Desserts, or both!

A Quilt Show, featuring Antique quilts, will be held in the sanctuary, decorated with the help of Aubrey Dunbar.

The Quilting group will have items for sale in the sanctuary. Soup will be served 11:30 am to 1:30 pm, desserts 11:30 am to 4:00 pm, Quilt show 12:00 pm to 3:30 pm.

Soup-$6.00. Dessert-$4.00.

Plan to come and relax with family and friends, enjoy our beautiful trees, and pick up some holiday spirit.

We are located at Nile Kinnick Dr North and Rapids St. (218 N. 9th St.) in Adel. Phone 515-993-4514 if questions.

First Christian Church
218 N 9th St.
Adel, Iowa 50003
Phone: (515) 993-1040
Website: www.FirstChristianAdel.org
Holiday Open House - Studio 10 Dec. 5th

Studio 10 Holiday Open House

Come join us Saturday December 5th from 3:30 pm to 5:30 pm for our annual Studio 10 Holiday Party.

Enjoy some snacks, refreshments, and conversations with our staff.

Also, don't forget to take advantage of our special discounts on products and services for yourself or family and friends.

We will be open December 5th 10am - 5:30 pm and discounts are available all day.

Product Discounts:
- Studio 10 Holiday Open HouseBuy 1 product = 10% off entire purchase
- Buy 2 products = 15% off entire purchase
- Buy 3 or more products = 20% off entire purchase

Gift cards:
Service Gift Cards - 20% off gift cards to be used towards any service

Pure Privilege:
Join the Pure Privilege Rewards program today and we will waive your enrollment fee. By joining you will receive points for all retail product purchases which can be redeemed for additional products, services, or items in a merchandise catalog.

As part of the program you will also receive a complimentary birthday gift valued at $20. If you can't make it, call on or before December 5th to take advantage of the discounts (515-993-3300).

Happy Holidays from Studio 10!

Studio 10
907 Main St. * Adel, Iowa 50003
Phone: (515) 993-3300
Facebook: AdelStudio10

Holiday Open House at Adel Quilting Dec. 4 & 5

Holiday Open House at Adel Quilting & Dry Goods Co., 909 Prairie Street, Friday and Saturday December 4th and 5th.

We have lots of great holiday gift ideas to share, both to make and ready made.

Also lots of gifts in stock - 2016 Calendar of Quilts, hand made bar soap, ladies scarves and more plus all the quilter's favorite notions and gadgets.

Our best selling gift item continues to be Gift Certificates!


We will have a drawing for a great basket full of our best sellers.


Corn Dog Muffins

Regular store Hours are Monday through Sunday, 10 am to 5 pm.

We will also participate in the Adel Holiday Open House, Friday evening from 5 to 7 pm.

Come sample our corn dog muffins and Shop Local!

Adel Quilting and Dry Goods
909 Prairie St.
Adel, Iowa 50003
Phone: (515) 993-1170
Email: adel.quilting@mchsi.com
Website: www.adelquilting.com

ISU Extension and Outreach News & Events

Private Pesticide Applicator Training

Friday, December 11 from 1:30-3:30 p.m.


A private applicator is a person who applies any restricted-use pesticide for the production of an agricultural commodity on property owned or rented by the applicator or their employer.
Initial certification for private applicators must be done through the Iowa Department of Agriculture and Land Stewardship in the form of a closed-book exam.
To be recertified, applicators have two options. They can elect to take the recertification exam every three years or attend a continuing instructional course offered by ISU Extension.
This two hour session includes information on pest management, worker protections, environmental quality and agricultural health
Community Building, Dallas County Fairgrounds. Cost to register is $20 per person. Register with
Aleta Cochran
.


2015 4-H Teen Retreat

Tuesday Dec. 29th, 9 am - Wednesday, Dec. 30th, 4:30 pm.

Leadership is born and sometimes presents itself at times when we would least expect it!
This retreat will provide an open and interactive environment for youth from Polk,
Dallas, Warren and Madison County to explore their leadership potential.
Featured presenter:
Jodie Beach is a national speaker from Van Meter, Iowa and author of, "Power, Presence & Style." She will show teens how to project more power, confidence and credibility.
$85 per teen.
Contact Aleta Cochran
, Dallas County Youth Coordinator, for information on financial assistance.
The fees for service will be used to off-set direct expenses and to support the 4-H Youth Development County Extension Program.
Teen Retreat Website
Register online! Registration due Dec. 11
Fill out the these forms:
Medical Release Form
Request for Giving Medication
Return forms to:
ISU Extension and Outreach
Dallas County
28059 Fairground Road
Adel, IA 50003
or
Scan and email to:
Aleta Cochran at
aleta@iastate.edu
~~~



Iowa State University Extension and Outreach in Dallas County
is not only a source for research-based information but also a venue to buy a unique gift for a friend or family member this holiday season.
For the home gardener, ISU Extension and Outreach offers the 2016 Guests of the Garden calendar for $7 which features gardening tips, phases of the moon and a new "guest of the garden" each month.

Use this calendar to learn how to attract "invited" guests and deter uninvited ones.

Other gardening manuals available include
The Guide to Midwest Annuals and Perennials ($8) and various booklets on topics like indoor plants and home landscaping ($5 each).


For home cooks looking to try new recipes or those who aren't so adept to navigating the kitchen, ISU Extension and Outreach offers the
Healthy and Homemade Nutrition and Fitness calendar ($3) and cookbook ($5).


The calendar (also available in Spanish on request) offers recipes which include nutritional facts, "clever tricks" to help save money by eliminating food waste and offers explanation to cooking terms and equipment uses. The cookbook contains 70 simple recipes with ingredients you can use from dish to dish.


ISU Extension and Outreach also offers useful
stocking stuffers for a family farmer. Newly released is the
2nd Edition of the Weed Identification Guide for $10 which assists producers and agronomists in accurately identifying weeds in Iowa corn and soybean fields.


New to the guide is Palmer Amaranth, a new weed to Iowa which has shown resistance to many herbicides. Other guides available include the
Soybean Field Guide and Corn Field Guide ($10 each) which are pocket guides to production decisions as well as common crop diseases, disorders and insects.


Visit the ISU Extension and Outreach office in Dallas County located north of Adel on the Dallas County Fairgrounds during the office hours of
Monday through
Friday from
8 a.m. to 4:30 p.m. To inquire more about these items or other resources available through extension, call the office at (515) 993-4281.

~~~

Dallas County ISU Extension Office

Adel, Iowa 50003

Phone: (515) 993-4281

Fax: (515) 993-1027

Penoach's 2015 Holiday Open House 12 & 13

Penoach Winery will hold it's annual Christmas Open House on December 12th and 13th from 12-5 pm.

Come by for goodies, wine samples, and shop for last minute gifts. Two free spice bags with any bottle of Dallas County Apple or Sweet Iowa Cranberry Wine, plus other specials on wine and winearita mixes.

Penoach Winery
26759 N Avenue * Adel, Iowa 50003
Phone: (515) 993-4374
Website: www.penoach.com
Facebook: Penoach-Vineyard-Winery

Brick Street Barbecue Time in the Snow!

With winter upon us it's time for some tasty smothered Baby Back Ribs from Brick Street Barbecue. Order Today!

Call Merle from Brick Street Barbecue at (515) 250-1687. His technique results in the most tender, flavorful and delicious BBQ dining experience you'll find.

Brick Street Barbecue
29048 Prospect Ave
Adel, Iowa 50003
Phone: (515) 993-3049
Email: Merle@BickStBBQ.com
Website: www.BrickStBBQ.com

BASE® Employees "Support the Troops"


BASE® employees jumped into the holiday spirit to "Support the Troops" that are currently stationed in Africa.

Employees chose what items they wanted to donate, ranging from Christmas decorations to shampoo.

Cindy Harrington, Director of Administration & Internal Operations, decided to get involved with "Support the Troops" after hearing it was nearly impossible for troops and their families to get Christmas decorations on base.

"One of the items that they specifically asked for were Christmas decorations, so we are especially excited to send several boxes of lights, ornaments, etc.," she said.




This is BASE®'s second time participating in the cause.
"We remembered how it was appreciated by our servicemen and women. My cousin is currently working at a USO on the United States Naval Expeditionary base at Djibouti in the Horn of Africa and it seemed like a good time to organize this project again."
There are currently about 4,000 troops stationed at this base from all branches of the military.
BASE® employees are excited to honor those serving overseas, and send them a little piece of home with Christmas decorations, candy, card games and other essentials!
"With the things going on in our world currently, this just seems like such a small way to show our appreciation to those who serve our country."
Base
601 Visions Pkwy
Adel, Iowa 50003
Phone: (515) 993-5050
Website:
www.baseonline.com
Adel HealthMart - Your Local First Stop!

Our Adel HealthMart pharmacy specializes in serving our community with fast, friendly, professional service and the highest-quality health products.

You'll always work with somebody at our pharmacy who greets you by name, and our pharmacists take the time to counsel you and answer your questions.

Visit us for all your healthcare needs!

Check out our facebook page and while you are there be sure to "like" us!


Hours:
Monday-Friday 8:00 a.m. - 6:00 p.m.
Saturday 8:00 a.m. - 3:00 p.m.
Sunday: Closed

Adel Health Mart
Phone: 515-993-3644
Fax :515-993-4714
After hours Emergency: 515-333-2959
Email: jane@adelhealthmart.com
Website: www.adelhealthmart.com
Facebook: www.facebook.com/adelhealthmart

Around Town
Free Kids Clothes Closet
The closet is open on the first and third Saturday of each month from 9:00 - 11:00 a.m. at the Adel First Christian Church Find clothes for infants to...
Continue reading
Faith Lutheran's 2015 Parent's Day Out Dec. 5th
Let Faith Lutheran Church watch the kids as you get some Christmas shopping done! mSaturday December 5th, 9:00 am - 12:00 p.m...
Continue reading
Adel Masons 2nd Sunday Breakfast
The Adel Masons Breakfast is held on the Second Sunday of the month from 7 a.m. - 1 p.m. They feature omelets to order, biscuits and...
Continue reading
2015 Open Sew at the Adel Public Library

Join Jacque Johnson, owner of Adel Quilting & Dry Goods Co., the 2nd Thursday and Friday of each month at the Adel Public Library for Open Sew!... Continue reading


Wednesday Night Community Suppers

Everyone is invited to join the Adel United Methodist Church on Wednesdays for a Community meal. Wednesday Evening Meals
Service is from 5:30 - 7:00 p.m... Continue reading

Check out the full list of events on the
- - - - - - - - - - - - - - - - - - - - - - - - - - - - - - - - - - - - - - - - - - - - -

- - - - - - - - - - - - - - - - - - - - - - - - - - - - - - - - - - - - - - - - - - - - -

Well, that wraps it up for the

DiscoverAdel.Com

newsletter this month!

We hope that you've enjoyed this issue and will share it with your friends.

We always appreciate any comments or article suggestions. Please email us at

info@DiscoverAdel.com

.




Sincerely,


Chris Brocka



DiscoverAdel.com is proudly produced by G.Rafics Inc.
Terry Traveller - Coffee Plantation

"Lights of Adel" Christmas Tour
- Dec. 9th

Adult Coed Indoor Volleyball Sign-up

Basketball Sign-up
Grades 1 & 2

2015 Seven Oaks Youth Day Trip Deadline Dec. 18th

Nile Kinnick
Museum Update