Dear Friend of Adel,

We have a full newsletter this month. In 2008 the November issue took 4 hours to assemble. Today it takes days to gather and prepare one of our favorite issues.

It's a sign that we've come a long way from 2008, something I'm personally thankful for and I thank you the reader for being part of our continued success.

In this issue we cover Thanksgiving, Christmas and have a great interview with Suzanna Sternquist and Doug Kintzle of the Rendezvous Lounge, another business that's seen a lot of positive changes since 2008.

Terry returns with another unique travel story that you'll have to read for your self, and believe it or not, it does explain some of my questions concerning Terry.

So grab a cup of coffee, there's a lot to cover this month and we look forward to seeing you in Adel.



Chris

Rendezvous Lounge - An Adel Landmark

Suzanna Sterquist

This month we feature interviews with Rendezvous Restaurant & Lounge owner Doug Kintzle, and Manager Suzanna Sternquist who joined the bar in July 2014, to find out what makes this hometown bar one of Adel's favorite hangouts.

The Rendezvous Restaurant & Lounge in Adel, or The 'Vous", as it is called by regulars, has long been the talk of the town.

With it's recent facade updates, multiple interior changes and "Wednesday Steak Nights" many have come to claim the local haunt as their own.


Doug Kintzle

According to local legend, Owners Doug Kintzle, Jay Alexander, Todd Millang, Rob Klinkner first discovered the bar at one of those bike/ steak nights.

The RAGBRAI teammates enjoyed picking out their own steak or chicken and grilling it with fellow cyclists on the spacious outdoor patio.

The well known meal also comes served with toast, baked potatoes and a choice of sides. When they heard the bar was for sale they joined together to buy the hot spot in 2012 situated near the Raccoon River Valley Trail.


"We've all known each other from RAGBRAI. Rob, Todd, and myself live in Des Moines; Jay lives in Colorado. Really our commonality is RAGBRAI and social biking. People believe we own multiple bars together, but we don't. However, Todd does own two other bars in Des Moines. Todd saw the listing and approached several of us on the bike team about buying the bar as a sideline venture. We knew the bar was associated with the bike trail. Since Todd had experience in the bar business, we decided to go ahead and buy the Rendezvous." Doug Kintzle

The bar holds a familiar charm; like the neighborhood Cheers where you're treated like a regular on your first visit. There is a giant bear to pose with, dressed fashionably for every season. There is a large caged beaver, too, for your photo bomb needs.

"I brought the bear from my brother in-law years ago to ride along on our RAGBRAI bus. Then we reconfigured the bus interior and I had to find a new home for it -so "Banjo" now greets customers as they come in the door. In one corner is a framed stained glass window that was part of the original bar exterior, and found during the façade project. I hung it up as part of the history of the bar." Doug Kintzle


There is a daily Happy Hour from 4-6pm. Game Night Thursdays offer 50-cent wings and $3.00 Tall Boys.

The bar features painted ceiling tiles depicting RAGBRAI teams and state icons by Doug. A compilation poster of favorites is available for sale at $15 each.

All of which goes towards a warm, inviting atmosphere the owners and employees are proud to cultivate. With its traditionally casual ambiance come common misconceptions, too. Steak nights are open to the public, not just cyclists.

The lounge is family friendly during the day by offering traditional grilled and fried fare with kid's meals for lunch from 11-2 and dinner from 5-9pm.

Suzanna wants Adel to know that the bar is also available to rent for fall and winter occasions.

"We rent the bar out for special events Saturday nights after 7pm. It includes the bartender, and the kitchen could be available for an additional cost." Suzanna Sternquist

Suzanna states that Rendezvous Restaurant & Lounge supports the local economy by shopping at Fareway, which is some of the reason the bar is getting recognized for it's food. Rendezvous Menu.

Another is the happy clientele. Regulars say the bar has the best burgers and pork tenderloins around. And the staff says their patrons are the best.

"It's the clientele- we have some great regulars here. It's a small town you know, so everybody's so happy and polite. I think Adel is adorable and charming. I love coming to work everyday." Suzanna Sternquist

In mid-November the bar hosts a Holiday Customer Appreciation night with free food and appetizers, and drink specials. Follow the bar on Facebook to find out about events and deals at Rendezvous-Lounge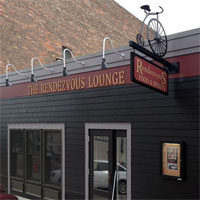 "With the renovation of the façade our intent was to open it up, and bring in some outdoor lights, to make it more friendly and inviting.

When I was a kid growing up, the local bar was a place where you could hang out.

My dad could have a beer and I could have a meal- a place to have some food and an adult beverage and have a good time.
For the folks in Adel we offer a family friendly environment for lunch or dinner and a place to relax with an adult beverage during happy hour or late evenings.


We also attract folks from the larger metro area who enjoy dropping in for a drink, a bite to eat, or a place to hang out along the bike trail.

People enjoy the small town atmosphere.

We're excited to be in a growing community like Adel with a its iconic courthouse, traditional town square and growing businesses.

The City has invested heavily in the downtown and we were very excited and thankful to be included in the recent façade improvement plan. We look forward to serving the community and appreciate everyone's patronage." Doug Kintzle

Rendezvous Restaurant & Lounge
909 Main St
Adel, IA 50003
Phone: 515-465-5854
Facebook: Rendezvous-Lounge

LSB - Special Olympics Iowa Statewide Partner

Lincoln Savings Bank is a Premier Statewide Partner for Special Olympics Iowa (SOIA) of the West Des Moines and Cedar Falls/Waterloo Polar Plunges.

The Polar Plunge® is a signature fundraiser for Special Olympics and offers a unique opportunity for individuals and organizations to raise money and support Special Olympics Iowa athletes by jumping into frigid waters.

The West Des Moines Polar Plunge will be held Nov. 7th at Jordan Creek Mall and the Cedar Falls/Waterloo Polar Plunge will be held in the spring of 2016.


"The energy and overall joy this partnership has brought upon our own employees confirms what we already knew - this is the organization we've been searching to work with," said Lincoln Savings Bank CEO, Erik Skovgard.

It's not too late to Register! Take the plunge for a great cause! Read the full story of this exciting new partnership.


Lincoln Savings Bank - LSB Financial
805 Main St.
Adel IA 50003
Office: 515-993-5663
Website: www.LSBmortgage.com
Facebook: www.facebook.com/LSBAdel
Lincoln Savings Bank, Member FDIC

Heart of Iowa Wine Trail Fall Art & Wine Crawl

Adel's Penoach Winery will be the host of the Heart of Iowa Wine Trail Fall Art and Wine Crawl on Sunday, November 8th, 2015.

Come and taste wine and view hand made pottery from Heiland Pottery.

The pottery will be for sale that day.

This Free event is a great way to get started on your Christmas shopping.

For more information, visit the Heart of Iowa Wine Trail.
Penoach Winery
26759 N Avenue
Adel, Iowa 50003
Phone: (515) 993-4374
Website:
www.penoach.com
Facebook:
Penoach-Vineyard-Winery
ADM Alumni - Adel Models from 70 Years Ago


The ADM Alumni Association is a great resource not just keeping up with former schoolmates, but also for the history of Adel.

Audrey (Harsh) Countryman submitted the below photo, taken 70 years ago, to the Association.



Above Caption: A few days ago a style show was held at the school building and a feature of the show was the group of girls pictured above.

They were demonstrating to the visitors that the girls in home economics class - known as "Future Home Builders" - had already made a splendid start. They made the dresses for the Red Cross and their work will bring to some little girls much happiness and comfort. They will be shipped to national headquarters this week and later sent to European countries.

In the picture, reading from left to right, back row, are: Joey Frush, Rosalie Vance, Miriam Cassady, Dorothy Lint, Janice Burger, Janis Knupp and Renee Spillers. In the front row are: Patricia Forrett, Janice Harsh, Elaine Updike, Kathleen Weir, Marsha Stittsworth and Audrey Harsh. All are attendants at the pre-school classes.

Adel Community Thanksgiving November 26th

Everyone is invited to the 26th Annual Community Thanksgiving Dinner held at the ADM High School commons Thanksgiving Day, November 26th from 11 a.m. - 2 p.m.

Come enjoy a free, traditional Thanksgiving dinner with all the trimmings! No reservations are required.

Home delivery is available in Adel only - for elderly and handicapped. Limited to 4 dinners.

Everyone is welcome to participate whether you are alone or just want to spend more time with your family instead of cooking.

We hope to see you on Thanksgiving. Bring your friends and family to share in this special community event!

To find out information or to arrange for deliver, please call (please contact Ellen at 422-0995 or Darcy at 681-7222. Donations will be happily accepted!

ADM High School
801 Nile Kinnick Dr S
Adel, Iowa 50003

Free Energy Audit and Help!

Want to save money?

Sign up for a Free home performance audit!

Green Iowa AmeriCorps is a non-profit service organization partnering with Greater Des Moines Habitat for Humanity, providing home performance audits and weatherization services for residents in Polk and Dallas County.

We offer performance audits and weatherization services at no cost to populations in need.


Do you want to:
Keep your house warm in the winter and cool in the summer
Eliminate drafts and "cold spots" in the home
Lower utility bills
Then we can help!
The following groups qualify for free weatherization materials:
Low income
Age 65+
Veterans
Disabled
Service Members
For those who do not qualify for our services, Green Iowa will weatherize your home for the cost of materials; labor is always provided at no cost.

Families are served on a first come, first serve basis. View Flyer (in English and Spanish) Contact us to schedule your home weatherization audit:

Green Iowa Americorps
Phone: (515)519-2005
Email: greeniowadm@gmail.com
Website: www.greeniowaamericorps.org

Operation Christmas Child Nov. 16th - 23rd
November 16 - 23 is National Collection Week for Operation Christmas Child!

This ministry is a part of Samaritan's Purse, an international relief organization.

In Operation Christmas Child, gift-filled shoeboxes are distributed in 150 countries to children who are living in destitute conditions.

Receiving a gift-filled shoebox very likely will be the first and only gift the children will have received. And although the gift is simple, it makes a life-changing difference!

You can participate by filling an ordinary shoebox with school supplies (notebook, pencils and sharpeners, pens, crayons), hygiene items (fragrance-free bar soap, a washcloth, toothbrush, toothpaste, comb/brush, barrettes/ponytail holders), toys (stuffed animal/doll, toy cars, deflated soccer ball with pump, jump rope), clothing, candy, a personal letter including your email address, and a check to Samaritan's Purse for shipping ($7 for each box). Please do NOT include any liquids, things that can melt, or anything that is warlike.

Please do drop off your shoebox gift at our local drop-off site, the Adel United Methodist Church, 115 S. 10th Street, during November 16 - 23rd.

Drop-off dates and times are: Monday - Friday, 4 - 7 pm; Saturday, 8 am - Noon; Sunday, 4 - 6 pm; and Monday, November 23rd, 8 - 11 am.

The Adel UMC invites the public to use the ramp on the south side of the building (Prairie Street) for an easy transition of transporting the boxes from your vehicle into the church. Volunteers will be there to greet and assist you!

Thank you for participating in Operation Christmas Child! Your loving outreach helps children to know that they are loved and not alone. One box at a time, one child at a time, we will share send the gifts of love and hope around the world!

For further information, please visit Samaritanspurse.org/occ or contact Bruce Minger at 515-979-6198.

God bless you and Merry Christmas! -Stefanie Wilderdyke, OCC Area Coordinator

Adel UMC - Santa's Family Workshop Nov. 22

Join us for Santa's Family Workshop.

The Adel United Methodist Church is hosting a free community wide event for any and all families.

We will have food, music fun, crafts for all ages and a visit from Santa!

November 22 2015 at the Adel United Methodist Church

10 AM - Worship
11:15 AM - 2PM Lunch, Crafts and Fun!!

Adel United Methodist Church
115 South Tenth Street
Adel, Iowa 50003
Phone: (515) 993-3791
Website:
www.adelumc.org
Facebook:
Adel-United-Methodist-Church
Shop with a Cop Nominations Due Nov 28th

Shop with a Cop & Food Basket Program.

This will be the 20th year for the Benevolent Food Basket and Shop with a Cop programs.

They assist the less fortunate families within our county.

To nominate a needy family for a food basket or a child in need who would benefit from a positive interaction with an officer.

Please visit the Sheriff's Benevolent Association site or stop by the Dallas County Sheriff's office lobby to pick up a form. Only Dallas County residents are eligible. There are a very limited number of spaces available.

The deadline is Friday, November 28th or when list is full.

Dallas County Sheriff'sBenevolent Association
PO Box 32
Adel, IA 50003-0187
Facebook:
Dallas-County-Sheriffs-Benevolent-Association
2015 Single Moms Christmas Dinner Dec 12th

Join Us For a Special Evening

Each year before Christmas, Single Parent Provision hosts a special evening of food, fellowship and fun!

This free event is designed for single mothers throughout the community to relax, be served, enjoy a wonderful meal and an inspirational program, all in the great company of other single moms.

Childcare is provided, so while you're being treated to much needed mommy time, the kids will enjoy fun activities, crafts and a meal of their own.

Date: Saturday, December 12, 2015
Time: 5:00 pm
Location: Stoney Creek Hotel & Conference Center in Johnston
Cost: None
Childcare: Yes; Sign up your children when you register.

Please RSVP online at singleparentprovision.org/ChristmasDinner to register.

Registration opens November 1st.

Also, won't you consider sharing this event information with a friend who could benefit by a special evening out with you and other single moms?

Single Parent Provision
Point of Grace Church
Office (515) 868 9252
305 NE Dartmoor Drive
Waukee, Iowa
Email: info@singleparentprovision.org
Website: singleparentprovision.org

ISU Extension and Outreach News & Events

Iowa State University Extension and Outreach in Dallas County is not only a source for research-based information but also a venue to buy a unique gift for a friend or family member this holiday season.


For the home gardener, ISU Extension and Outreach offers the 2016 Guests of the Garden calendar for $7 which features gardening tips, phases of the moon and a new "guest of the garden" each month.

Use this calendar to learn how to attract "invited" guests and deter uninvited ones.

Other gardening manuals available include
The Guide to Midwest Annuals and Perennials ($8) and various booklets on topics like indoor plants and home landscaping ($5 each).


For home cooks looking to try new recipes or those who aren't so adept to navigating the kitchen, ISU Extension and Outreach offers the
Healthy and Homemade Nutrition and Fitness calendar ($3) and cookbook ($5).


The calendar (also available in Spanish on request) offers recipes which include nutritional facts, "clever tricks" to help save money by eliminating food waste and offers explanation to cooking terms and equipment uses. The cookbook contains 70 simple recipes with ingredients you can use from dish to dish.


ISU Extension and Outreach also offers useful
stocking stuffers for a family farmer. Newly released is the
2nd Edition of the Weed Identification Guide for $10 which assists producers and agronomists in accurately identifying weeds in Iowa corn and soybean fields.


New to the guide is Palmer Amaranth, a new weed to Iowa which has shown resistance to many herbicides. Other guides available include the
Soybean Field Guide and Corn Field Guide ($10 each) which are pocket guides to production decisions as well as common crop diseases, disorders and insects.


Visit the ISU Extension and Outreach office in Dallas County located north of Adel on the Dallas County Fairgrounds during the office hours of
Monday through
Friday from
8 a.m. to 4:30 p.m. To inquire more about these items or other resources available through extension, call the office at (515) 993-4281.

~~~


Kid Based Workshops


Iowa State University Extension and Outreach in Dallas County will hold kid based workshops on
November 7th, 2015 at the Dallas County Extension Office.


C6BioFarm Workshops - Grades 4-12

11:00 am - 12:00 pm * 1:30 pm - 3:30 pm


With the use of iPads, Kids will be taken through an interactive decision-making process that allows them to consider agriculture from economic, environmental, and long-term productivity viewpoints.


The
Superhero C6 character leads players through decisions such as whether to produce corn, soybeans, or switchgrass, and real-life farming problems such as drought, floods, pests, combine fires, and other events.


Other activities include learning about how to create a healthier environment and what old carbon and new carbon are in addition to a horticulture experiment about what type of soil creates the healthiest plants. RSVP to Aleta Cochran,
aleta@iastate.edu
.
Registration Required - Deadline: 11/2/2015


~~~
SpendSmart. EatSmart. Newsletter Save Money on Vegetables!
"Eating vegetables provides many health benefits, including reduced risk of chronic diseases.
Because each vegetable has unique nutrients, we need to choose a variety for meals and snacks-including dark green and orange vegetables and legumes.

MyPlate and the Dietary Guidelines for Americans recommend..."
Read more.

To inquire more about these items or other resources available through extension, call the office at (515) 993-4281.
Dallas County ISU Extension Office

Adel, Iowa 50003

Phone: (515) 993-4281

Fax: (515) 993-1027

Black Friday at Penoach Winery

Penoach Winery's annual Black Friday Sale will start at 12:00 am on November 27th.

Once a year wine specials will be offered.

Stock up on all of your favorites and get started early on your Holiday gifts.

2015 Adel Business Holiday Open House Dec. 4

SAVE THE DATE

The Adel Partners Chamber of Commerce invites you to participate in the 2015 Business Holiday Open House, Dec. 4th.

The Open House runs from 5:00-7:00 pm with recipe cards and samples at Chamber businesses, civic organizations, and churches.

Come and enjoy goodies and tour the decorated store fronts. Participating business will display luminaries to help light your way.

Don't forget to visit Santa and Mrs. Claus.

2015 Save the Date - Giving Tuesday Dec. 1st

Created four years ago to harness the power of social media, Giving Tuesday this year is December 1, 2015.

It is always the first Tuesday after Thanksgiving. This is a global event that helps to honor and promote small acts of kindness via on-line donations to local charities.

This year the "charity of choice" in Adel for Giving Tuesday is the Good Samaritan Food Pantry(GSFP).

Because of the county's phenomenal population growth over the past few years, GSFP is experiencing more individuals and families seeking basic food needs on a weekly basis says Manager Celia McCollum.

"In addition to helping feed elders and working families who cannot make ends meet, this year we have partnered with The ADM Schools to begin a "backpack" program for elementary students who go home over a weekend to a house where there is little or no food," she said. "We are now packing nearly 70 backpacks a week which has greatly increased our budget."

Good Samaritan is urging all who hear this message about Giving Tuesday to spread the word via social media (Facebook, Twitter, Pinterest etc) to make an on-line gift to the Food Pantry now or on Tuesday December 1. They have a connection to PayPal on their website at www.adelfoodpantry.com and if you do not have a PayPal account you can use your VISA or Mastercard too.

"We will be grateful for any size contribution," according to Celia, "We operate on a very modest annual budget so every gift is important and will be well-spent. In our 33-year history we have become very smart shoppers. We know where to get the most from our dollar, whether that be the Food Bank of Iowa or a local business who gives us a substantial discount!"

Please join DiscoverAdel in supporting our long-time community asset the Good Samaritan Food Pantry.



You can read more about the concept at www.givingtuesday.org

Good Samaritan Food Pantry of Adel
United Methodist Church
115 South Tenth Street
Adel, Iowa 50003
Phone: (515) 423-0753
Website:
www.adelfoodpantry.com
Facebook:
Good-Samaritan-Food-Pantry
Adel HealthMart - Holiday Open House Nov. 6th
Adel Healthmart invites you to our Annual Holiday Open House on Friday, November 6th from 8 am - 6 pm.

We will have Door Prizes as well as a FREE Gift with purchase while supplies last and FREE refreshments.

Stop by to check out our new Christmas merchandise.

Shop local this holiday season.

We have several great gift items this year and as always we offer free gift wrap with purchase. We hope to see you November 6th!

Flu shots are now available at Adel Healthmart. No appointment is necessary so please stop by anytime to get yourself protected against the flu this winter season.

Adel Healthmart offers FREE Medicare Part D Drug plan reviews. Open enrollment runs thru December 7th. It is a great idea to review your drug plan each and every year and changes are made to the plans each year. Call or stop by to schedule and appointment to meet with one of our pharmacists to discuss your options.


Shop at

Adel HealthMart

on Saturday,

November 28th

, for

Small Business Saturday

.




We will be open 8:00 - 3:00 p.m. on Saturday with great Christmas decor items and gifts.

Shop small, shop local this holiday season!



Be sure to "like" us! Facebook!



Hours:
Monday-Friday 8:00 a.m. - 6:00 p.m.
Saturday 8:00 a.m. - 3:00 p.m.
Sunday: Closed

Adel Health Mart
Phone: 515-993-3644
Fax :515-993-4714
After hours Emergency: 515-333-2959
Email: jane@adelhealthmart.com
Website: www.adelhealthmart.com
Facebook: www.facebook.com/adelhealthmart

Around Town
Free Kids Clothes Closet
The closet is open on the first and third Saturday of each month from 9:00 - 11:00 a.m. at the Adel First Christian Church Find clothes for infants to...
Continue reading
Panther Creek Soup Luncheon, Craft & Bake Sale Nov. 1st
The Women's Fellowship of the Panther Creek Church of the Brethren (24529 J Ave.) invites everyone to their Soup Luncheon, Craft & Bake Sale on ...
Continue reading
Adel Masons 2nd Sunday Breakfast
The Adel Masons Breakfast is held on the Second Sunday of the month from 7 a.m. - 1 p.m. They feature omelets to order, biscuits and...
Continue reading
2015 Faith Lutheran Church Harvest Dinner Nov. 6th
Join Faith Lutheran Church, as they give thanks to the Lord for a blessed harvest. Friday, November 6th, 2015, 5:00 p.m. - 7:00 p.m. ...
Continue reading
2015 Open Sew at the Adel Public Library

Join Jacque Johnson, owner of Adel Quilting & Dry Goods Co., the 2nd Thursday and Friday of each month at the Adel Public Library for Open Sew!... Continue reading


Ham Radio Lecture November 8th

Amateur radio ("ham" radio) describes the use of radio frequency spectra for purposes of non-commercial exchange of messages, wireless ... Continue reading


Strange Objects in Iowa's Skies November 15th

The program presenter will be UFO researcher Bev Trout. Bev has been a longtime investigator and leader of the group of Iowans investigating strange ... Continue reading

Wednesday Night Community Suppers

Everyone is invited to join the Adel United Methodist Church on Wednesdays for a Community meal. Wednesday Evening Meals
Service is from 5:30 - 7:00 p.m... Continue reading

Check out the full list of events on the
- - - - - - - - - - - - - - - - - - - - - - - - - - - - - - - - - - - - - - - - - - - - -

- - - - - - - - - - - - - - - - - - - - - - - - - - - - - - - - - - - - - - - - - - - - -

Well, that wraps it up for the

DiscoverAdel.Com

newsletter this month!

We hope that you've enjoyed this issue and will share it with your friends.

We always appreciate any comments or article suggestions. Please email us at

info@DiscoverAdel.com

.




Sincerely,


Chris Brocka



DiscoverAdel.com is proudly produced by G.Rafics Inc.
Terry Traveller - Alien Abduction

Kuder Inc. Career Fair November 10th

Thanksgiving Free
Throw Turkey Toss
November 21st

2015 Adel City Elections November 3rd.