Celia McCollum - Adel Food Pantry
This month we share an interview with Celia McCollum, Manager of the Adel Good Samaritan Food Pantry, serving the Adel-DeSoto-Minburn school district and Van Meter.
Celia has lived in Adel for the past 45 years. She started working with the Food Pantry during her tenure with Adel Home Services.
Three years ago, Celia became the Client Intake volunteer whose responsibility was to meet and greet clients while gathering the family size, names, ages, and address.
About 9 months ago Celia became Manager, assisting the Pantry for 40 hours per month answering questions, ordering food, stocking shelves and handling the administrative aspects for the greater good of the Pantry.
In addition to Celia, the Adel Good Samaritan Food Pantry has 5 regular volunteers: Maureen Rohret, Roland Joyner, Gordon and Sara Plunkett, and Bonnie Conover serving 85 families, or 175 people, per month. These volunteers work two weeks a month marking each donation with the Best If Used By date and help clients shop for groceries. Bonnie is now responsible for Client Intake. They also secure additional volunteers if needed.
The Food Pantry is open 8 days a month on Monday and Wednesdays from noon-2pm. There are 8 local churches that take one day per month to volunteer.
Adel's is a choice pantry meaning that clients may choose which items they take home. Previously, the pantry pre-bagged food based on family size.
Now, clients walk the shelves like a grocery store, selecting a specific number of items to last the family for about a week.
Clients have responded well to the change as shown with more smiles, greater interaction, and their heads held high.
The Pantry is used for supplemental nutrition and each family leaves with a cart full of groceries.
The Pantry is proud to serve anyone from the designated area if they walk through the doors.
While many people know the Food Pantry is donation based, you may be surprised to learn that they also purchase food from the Food Bank of Iowa and Adel Fareway. Celia is able to buy food by the case at just $0.14 a pound.
Along with regular staples like peanut butter, eggs, and bread, the items available each month vary based on corporate donations, such as the large donations made by Barilla Pasta based in Ames.
New Freezer Purchased with Walmart Grant Money
About once a month Celia selects items from the available stock and 2 volunteers head into Des Moines for the pick up.
While there, the volunteers are able to select additional items for free such as produce, frozen meat, prepared birthday cakes, cupcakes, pies and more.
Last month Celia was able to purchase 1100 pounds of food; when the volunteers returned, they had picked up an additional 1200 pounds for free to share with their clients!
Bonus items like desserts are fun treats that the Pantry is excited to share when available.
The items at the Adel Good Samaritan Food Pantry are typically shelf stable, though Celia is excited to share the donation of ground beef donated recently by an Adel family.
In addition to the one-week supply of food items each family is afforded, the pantry has a selection of condiments and personal care items such as laundry soap, tooth paste, dish soap, shampoo, condition, and toilet paper that clients may select if they choose. Items that are past the Best If Used By Date or otherwise considered an oddity, are also available options.
The Adel Good Samaritan Food Pantry is funded entirely by donations of money and food. In addition to large donations made during Food Drives conducted by local groups, the Pantry has regular donations made by "Angels" who enjoy giving on a regular basis.
Celia has one couple that is proud to purchase personal care items whenever needed. Another Angel is an Adel business that has laid out a monthly plan to donate specific items each month donated by employees.
Some families have recently taken to asking birthday party guests to bring Food Pantry donations in lieu of gifts for their children. Then, the kids bring the goods to the pantry and get to partake in stocking the selves and being part of this great service.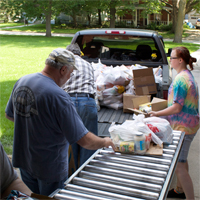 Recently, the Food Pantry received a $20,000 grant from Wal-Mart to be used for infrastructure improvements. Celia and her team have been able to purchase conveyor rollers to help get donations into the Pantry, 3 computers, and utility carts.
With the remaining balance they have given back to the Methodist Church that has graciously housed the Pantry for the past 6 years.
They purchased a railing for the entry way and plan to buy a new awning to cover the main entrance used by their clients.
It is important to note that the Adel Good Samaritan Food Pantry is a separate organization housed within the Methodist Church and supported by the community.
Thanks to the infrastructure grant, a new service the Pantry is proud to offer is transportation. In association with the HIRTA bus, clients may receive a voucher to get a ride to and from the Pantry.
Homebound clients may select a representative to select and pick up their groceries. For working clients that cannot make it to the Pantry during the noon-2 pm hours, after hour pick-ups make be scheduled. Please keep in mind that the Pantry is volunteer based and not all accommodations can be met, though they will do what they can.
Parents in the ADM and Van Meter School district that find they could use some help providing meals and snacks for their children this summer are in luck.
The Good Samaritan Food Pantry of Adel has begun a new program which will provide families with a bag of 7 breakfasts, 7 lunches, and 14 snacks per child once a week.
The program will be available Wednesdays from 5:00-7:00pm, July 1st through August 12th. View Flyer
If you are a working person who has been unable to use the food pantry during regular daytime hours you may visit during this time as well!
Sign up for programs offered by the Food Pantry by simply bring a photo ID and piece of mail with your name and current address with you to your first visit. Working people who have been unable to use the food pantry during regular daytime hours may visit Wednesday evenings as well; please bring your most recent pay stub along with your identification and address verification.
Celia and her team are overjoyed by the continued support of the community and welcome every donation. As Celia says, "hunger knows no season."
For those who wish to join the effort, donations are taken all year long and a list is available online at www.AdelFoodPantry.com which is a great basis for making selections. You can also make credit card donations on the website.
Donations may be dropped off at the Adel Fareway, or you may contact Celia at (515) 423-0753.
Adel Good Samaritan Food Pantry
115 S. 10th Street
Use steps on West side of the Methodist Church under the awning
Adel, IA 50003
Phone: (515) 423-0753
Website: www.AdelFoodPantry.com
Facebook: Good-Samaritan-Food-Pantry-Serving-ADM-School-District-Van-Meter