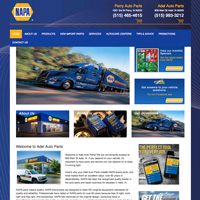 Courtesy of Adel Auto Parts:
Check out the new and improved Adel Auto Parts website to view monthly specials and promotions! 
Find tips and advice from expert mechanics with the NAPA Know How you trust. 
Search the inventory for more than 375,000 parts to keep your fleet running smooth with convenient shopping in historic downtown Adel.
Visit www.AdelAutoParts.com for all your online car care needs.
Adel Auto Parts Corporation
809 Main Street • Adel, Iowa 50003
Phone: 515-993-3212
Perry Auto Parts
1001 3rd. St. • Perry, Iowa 50220
Phone: 515-465-4615
Hours: 
Monday – Friday 7:30 am – 5:30 pm 
Saturday 8:00 am – 3:00 pm
Website: www.AdelAutoParts.com