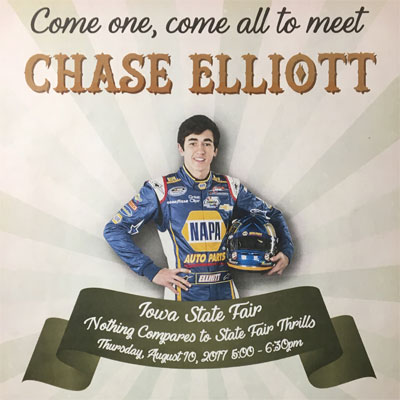 Come one, come all to meet Chase Elliot at the Iowa State Fair Thursday, August 10th, 2017 5:00 to 6:30 pm.
Stop by the Adel or Perry Auto Parts NAPA store to enter to Win 2 Passes to Meet and Greet Chad Elliot.
Schedule:
5:00 – 6:00 pm – Autograph Session
6:00 – 6:30 pm – Q&A Session
Sponsored by NAPA Auto Parts. Visit NAPAIowa.com for more details.
Adel Auto Parts Corporation
809 Main Street • Adel, Iowa 50003
Phone: 515-993-3212
Website: adelautoparts.com
Facebook: Adel-Auto-Parts-Corp-NAPA
Perry Auto Parts
1001 3rd. St. • Perry, Iowa 50220
Phone: 515-465-4615
Website: adelautoparts.com
Facebook: Perry-Auto-Parts-Corp-NAPA

Store Hours:
Monday – Friday 7:30 am – 5:30 pm
Saturday 7:30 am – Noon