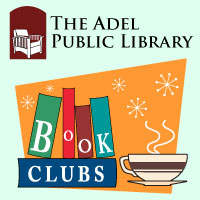 Courtesy of Adel Library:
Join one or both of the Adel Public Library book clubs during the month of March, 2017.
The Brown Bag Book Club meets on Thursday, March 9th at Noon to discuss the memoir "The World's Strongest Librarian" by Josh Hanagame.
The Evening Book Club will meet on Thursday, March 30th at 6:30 pm to discuss the novel "Enemy Women" by Paulette Jiles.
Copies of both books are available to check out and our book clubs are always welcoming new people to our fun-filled discussions.
Library Hours:
Mondays and Fridays, 10 a.m. to 5 p.m.
Tuesdays through Thursdays, 10 a.m. to 7 p.m.
Saturdays, 10 a.m. to 1:30 p.m.
Adel Public Library
303 S. 10th Street
Adel, Iowa 50003
Phone: 515-993-3512
website: www.Adel Public Library