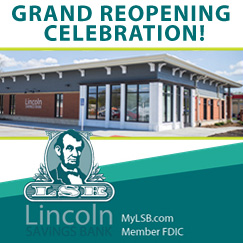 Courtesy of Lincoln Savings Bank:
Come visit Lincoln Savings Bank at our new address for our Grand Reopening Celebration!
Our Team Thanks You for the continued privilege to serve the community!
Wednesday, May 10th 5:00 – 8:00 pm
We have a brand new office but our same home-town team is excited to celebrate with you!
Stop by for live music, delicious food and lots of fun!
Lincoln Savings Bank – LSB Insurance
312 Nile Kinnick Dr.
Adel IA 50003
Office: 515-993-5663
Website: www.LSBmortgage.com
Lincoln Savings Bank – Member FDIC