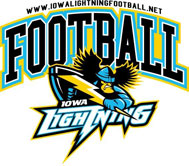 The Iowa Lightning, a Semi-Pro Minor League Football Team will again be playing a play-off game this Saturday night at 7pm, at Macy Football Field in Kinnick Feller Park.
The Lightning (11-1) will play the Saint Paul Pioneers (9-1). The Iowa Lightning defeated the Dubuque Bruisers 30-14 last Saturday evening in Adel.
This is a rare opportunity to see this level of football played right here in Adel and Dallas County! Bring out the whole family.
There will be no admission charge to the game! A full concession stand will be available.
Please text, e-mail, and spread the word about the 'Game in the Park' this Saturday at 7pm! This is a great family event and Adel is happy to host them again!
Press Release:
Iowa Lightning Strikes In Adel Iowa Last Saturday 9-26-09
The Iowa Lightning is Des Moines Premier Non-Profit Minor League Men's Football Team. This year, the Lightning are one of best teams in the League and boasted an 11-1 record going into the NAFL National Playoffs last Saturday, in Adel, Iowa. The Lightning is seeded 2nd in an eight team regional playoff and feature several local players from the Des Moines area.
The Lightning are the top scoring team (47.0 per game) in the league, and have posted 30+ points in seven games, including three games of 70+ points. However, they were held to 7 points (14-7 vs. Cedar Valley Vikings) in their lone loss. Because of the soft schedule, a good question would be,
"How good are the Lightning and will their soft schedule hurt them"? The question was partially answered last Saturday. After a first half of pretty even football, the Iowa Lightning pulled away and defeated Dubuque 30-14.
With the first game under their belt, they are scheduled to play the Saint Paul Pioneers (9-1) this Saturday, October 9th at 7:00 p.m. in Adel, Iowa.
A win on Saturday will put them into regional games for the right to play for a national championship in Miami, Florida, November 14th and 15th.
This is a very competitive league, with great football at the semi-pro level. Everyone is welcome to come and cheer on the Lightning at Saturday's game. www.iowalightningfootball.com.