This month we spoke with Owner Kirk Reisetter of KRPentry Custom Woodworking in Adel, Iowa about his love of custom carpentry.

Quality craftsmanship makes every project a centerpiece. Dovetail joints, real wood, lacquered finish, and select hardware creates heirlooms.
Kirk Reisetter has lived in Adel most of his life, and most of his life his father has been remodeling their family home.
"When we moved in, he picked up a hammer. That's where I learned most of my woodworking skills, working on that house with him. He kept on going and I kept on learning."
In college, Kirk continued to learn fine carpentry skills working on theater sets. His friends took note when he made a modular loft to accommodate his dorm room. Soon Kirk was designing for others.
It was while creating a jewelry box with fine detailing that Kirk first realized the wide scope of woodworking he could accomplish and started his carpentry business.
KRPentry Custom Woodworking has completed decks, home remodeling, rough carpentry, practical furniture for homes and offices, and decorative heirloom pieces.
Kirk is especially excited about a turn of the century Craftsman House he is helping to restore.
A Craftsman House refers to homes built using blueprints and supplies available through the Sears and Roebucks catalog. Ads from the 1930's boasted a "10-room residence could be built and finished for just $3000." Simpler homes started at $725. Builders took pride in constructing their very own dream home.
"They are beautiful houses with lots of woodwork. This particular house is from 1908 and has steam bent railings, which I hadn't seen prior to 1930; it just wasn't popular. I'm looking at this house and thinking, 'wow its ahead of it's time!' It is a real treat to work on."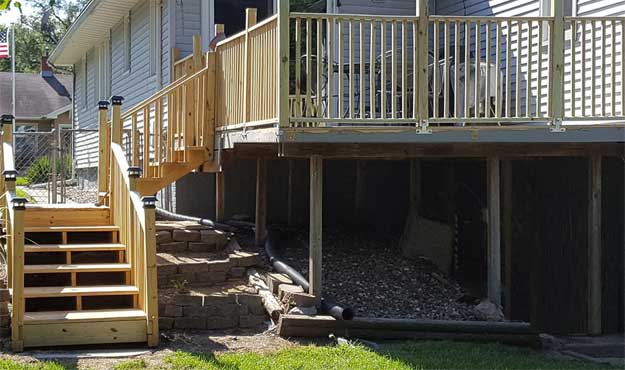 Deck stairs: Created extra-wide steps and stair for a home that had a long terrace. Replaced railing of deck adjoining house. Treated pine.
As the Adel housing market booms, Kirk reminds house hunters it is important to invest in a quality home. "People are getting frustrated with cheap furniture that falls down. They spend $20 on a bookshelf, and then buy it again a year later, and again. Instead, clients ask me to design a built-in cabinet or bookshelf that will last and increase the value of their home."
Bed frame: can break into quarters for easy movement. Structure of 2×4 pine, facing and drawers of solid red oak. Dovetailed drawers, collapse-able slats for easy movement.
KRPentry Custom Woodworking is proud to offer home and business clients the ability to design pieces to their exact specifications. To that end, Kirk uses SketchUp, a 3D imaging program.
The software enables Kirk to create concept designs that give the client a clear picture of his first impressions. Far better than blueprints or simple sketches, this creates a communication bridge between the carpenter and the client that helps to ensure the final product is exactly what everyone has in mind.
"Your needs, your space, your aesthetic, your life. I can't say it better than that. Everything I've sold I've been proud of; I would never sell something I'm not proud of. It may take a little longer, that's because the personal attention to detail makes each project a centerpiece."
KRPentry Custom Woodworking
Creating beautiful woodwork to fit your needs.
Kirk Reisetter
Phone: (515) 681-1355
Email: krpentry@gmail.com
Website: www.KRPentry.com
Facebook: facebook.com/krpentry