This month we spoke with Kim Owens, Dallas County Deputy Auditor and Elections to learn how the voting process is accomplished for more than 38,000 Dallas County voters.

This year, Tuesday November 8th marks the 56th presidential election. 
As Americans, it has been our civic duty and privilege to vote for elected officials and public measures for the past 228 years.
In the years leading up to any election, the public sees advertising about specific candidates and propositions.
But behind the scenes, Dallas County Auditor & Commissioner of Elections Gene Krumm and his team are busy preparing for school elections, City proposals, and special elections that take place throughout the year. 
Dallas County is home to more than 66,000 residents broken into 34 voting locations known as precincts. Kim Owens prepares customized ballots for each precinct and conducts test of the ballots and Open-Elect Voting Optical (OVO) machinery.
Kim Owen with Voting Machines
The team is required by law to produce a "Test Deck" of ballots to verify that the OVO machines tabulating the results are reading each ballot correctly. A second "Public Test" is performed so that citizens may witness the testing process.
There is a significant amount of data entry required to prepare for each election. This October there are several ballot concerns. For many, it is important to research each candidate and proposition.
2016 Ballot Breakdown
Adel citizens will vote regarding a proposed 7% Local Hotel and Motel Tax. To learn more about the proposed tax, please contact City Hall.
The partisan ballot includes President/Vice President, State Senator and Representatives, as well as County Supervisor, Auditor, and Sheriff. 
Nonpartisan races include County Public Hospital Trustee, Soil and Water Conservation District, and County Agricultural Extension Council. 
The Judicial ballot includes Supreme Court Judge, Court of Appeals Judge, and District Judge appointments.
To place your vote on these important issues, first you will need to be a Registered Voter. Iowa now offers 6 options to register to vote for the 2016 elections.
3. On Election Day
Kim recommends early registration to avoid delays. If you choose to register the day of, please bring your valid Iowa Driver's License and a piece of mail confirming your address. If you do not, your vote will be considered Provisional until the documentation is received. 
4. During the driver license application or renewal processes. 
5. In-person at the Dallas County Auditor's office: 210 N 10th Street, Adel.
6. At state agencies offering services to the public.
Remember: there is never a cost to register to vote!
The long, 16-hour day of any election is hectic for Kim and her team of employees and temporary workers. Presidential elections require years of planning and preparation. In addition to her regular staff, 230 Precinct Officials are trained regarding proper electoral procedure. Special teams are also selected to handle Absentee Ballots and Provisional Votes. 
Precinct Officials are paid $9.00/hour and must work the full 16-hour shift. Dallas County is required to have a balance between Republicans and Democrats, Men and Women. To learn more about becoming a Precinct Official: 
http://www.co.dallas.ia.us/home/showdocument?id=17273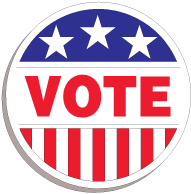 "If you vote the very first thing in the morning before work, from 7am-9am, or after work from 5-8pm, those are heavy traffic times-plan for an hour. Otherwise it may take 15 minutes. You'll go to the table and check in with a Precinct Official. 

You will be asked to confirm your birthday and address. Once identified, the voter signs in and moves to the next step of the vote- the ballot table. 
Voters are instructed to go to a voting booth to ensure privacy. Once the vote is complete, the ballot, in a privacy sleeve, is handed to an official who feeds the ballot into a machine that counts each vote."
This is Kim's second Presidential Election. In 2012, Dallas County accounted for 38,000 voters, 21,000 in person, and 17,000 Absentee Ballots. This year, Kim has taken a proactive approach by preparing early, determining what can be improved, and how to handle the flood of Absentee ballots.
Satellite absentee voting stations will be made available for any Dallas County resident prior to the November 8, 2016 election.
Perry Public Safety: 908 Willis Ave, Perry Iowa
October 17th, October 25th 1pm-7pm    
Heartland Presbyterian Church: 14300 Hickman Rd, Clive Iowa
October 19th, October 27th 1pm-7pm
St. Boniface Catholic Church: 1200 Warrior Ln, Waukee Iowa
October 18th, October 27th 1pm-7pm    
St. Francis of Assisi Catholic Church: 7075 Ashworth Rd, West Des Moines Iowa
October 21st 1pm-7pm
Woodward United Methodist: 108 W 5th St, Woodward Iowa
October 25th 1pm-7pm
Van Meter America Legion: 910 Main St, Van Meter Iowa
October 26th 1pm-7pm.
Dallas County Auditor's Office: 210 N 10th St, Adel Iowa
Monday-Friday through November 7th, 8am-4:30pm
October 29th, November 5th 8am-5pm.
The election doesn't end when the precincts close. Wednesday will mark the beginning of a month long clean up for the Audit and Elections team.
Provisional ballots must be verified while Absentee ballots continue to roll in via the United States Postal Service. 
Official counts must be updated and approved by the Dallas County Board of Supervisors, then submitted to the State of Iowa for further acceptance and approval.
Members of the Dallas County Audit and Elections team are honored to help residents participate in local, state, and national government. 
Kim is happy to take part in the preparation and verification of the democratic process.
Dallas County Audit & Elections Office
210 N 10th Street
Adel, IA 50003
Ph: (515) 993-6914