We had the pleasure of sitting down with Pastor Jeff Crowder of Fusion Church, located just East of Adel, to discuss his new church. Jeff grew up in Braidwood, Illinois and eventually lived in Chicago. He and his wife Tracey have three children, Stephen - 7, Sarah - 4, and Isaac-23 mos.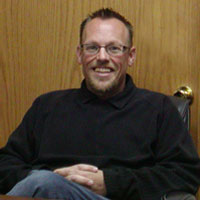 Having grown up in several different denominations, he was searching for a place that the truth of the scriptures could be fully preached.
He found that at the age of 20.
Jeff and Tracey married at 24 and he was a Youth pastor in Dubuque, Iowa. They've pastor-ed in Iowa for ten years, recieving the call to come to Adel this fall.
Although Fusion is located in the former Celebration Church building, Jeff wants people to know that it is a new church affiliated with the Assemblys of God.
Sunday services start at 10:00 with a praise and worship service. Jeff sits on the stage as he delves into the Bible. The scriptures are projected on the screen behind him, but he encourages everyone to bring their Bible and follow along in the Word.
His attire is relaxed, he often preaches in his trademark black sweater, his doctrine is biblical. "We have a message for all people that you can be made right with God through Jesus Christ." adding that, "We want a church for people."
Jeff is concerned with local outreach, Fusion offered a 100 free turkeys with all of the fixings to the community this last Thanksgiving.
Having lived in Chicago, the Crowders are enjoying the friendliness of Adel and the smiles they receive in the community.
He and Tracey invite anyone looking for a church home to come out to Fusion this Sunday for fellowship.
Fusion Church
Sunday's 10AM
Hwy. 6 (just east of Adel)
Phone: 515.993.5438
Facebook: facebook.com/Connectwithfusion