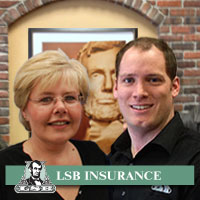 Courtesy of Lincoln Savings Bank:
Spring storm season is just around the corner, so now is the time to prepare. 
Iowa experiences snow storms, tornadoes, flooding and other severe weather every year, many times striking with very little warning.  
Severe Weather Awareness Week is an annual event to remind Iowans that severe weather is part of living in our state and that understanding the risks and how to respond to them can save lives.
 
LSB Insurance is proud to support Severe Weather Awareness Week and encourages everyone to:
Make a Plan – create a family communication plan, know the emergency plan for your work place.
Build a Kit – put together an emergency kit and be sure that everyone in your home knows where it is.
Be Aware – Pay attention to the news. Invest in a NOAA weather radio to receive weather alerts. Install weather or emergency alerts on your mobile phone.
Call Lori or Josh to review your coverage before the next storm strikes!
 
LSB Insurance
805 Main Street
Adel IA 50003
Office: 515-993-5663
Website: www.mylsb.com/insurance