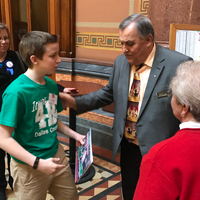 Courtesy of the Dallas Co Extension Office
Iowa Extension Council Association held their Legislative Day at the Capitol on February 28.
Nicki Stajcar and Brent Schwennker, Dallas County Extension Council Members attended with Dallas County 4-H'er Zach Harnden. 
They spent time on Capitol Hill sharing Extension with Dallas County senators and representatives. 
Zach is a member of Boone Progressors 4-H Club and was able to meet with legislators, tour the Capital, and learn about the legislative process and what bearing it has on Iowa State Extension and Outreach.
One of the highlights to the day for Zach was spending some time with a Senate Page, where he learned the opportunities and responsibilities of being a Legislative Page.  Zach was chosen to attend based on his educational presentation and essay submitted.
Every year more than 1 million people directly benefit from Iowa State University Extension and Outreach programs, and we connect with millions more online. We're building a strong Iowa. 
For example a community art project in Perry culminated in a collaborative photography exhibition by local fifth-graders that sparked public conversation. Residents discussed how to increase economic development opportunities, broaden the community and preserve Perry's rural heritage. 
4-H Youth Development builds skills in young people to improve their college and career readiness, close the educational achievement gap and encourage young professionals to commit to rural Iowa. Last year we reached about 100,000 K-12 youth.
Farmers are implementing strategies to reduce nutrient loss and improve Iowa waterways. Extension specialists and researchers support them as they share best practices with their neighbors.
Dallas County ISU Extension Office
28059 Fairground Road
Adel, Iowa 50003
Phone: (515) 993-4281
Fax: (515) 993-1027
Website: www.extension.iastate.edu/dallas
Facebook: ISUExtensionDallasCounty