Friends of Mara Nevins showed up by the hundreds at the benefit for Mara and Tori's Angels Foundation Saturday. June 24th.
Approximately 400 people came to show their love and support for Mara.
Friends and supporters from Adel and surrounding communities were extremely generous with their donations for the free-will lunch and donated over 150 impressive silent auction items.
One organizer said, "I'm so glad that we had such a great turn out and the community came out in full force!"
The benefit was so successful that it may be the foundation's largest benefit yet.
Everyone signed a large "We Love You Mara" card to show their support. Mara's pre-school friends sang for her, and Mara was serenaded by her sister Cora and other friends. Children had their faces painted and a few enjoyed looking at their image in a full-length mirror up for bid in the silent auction.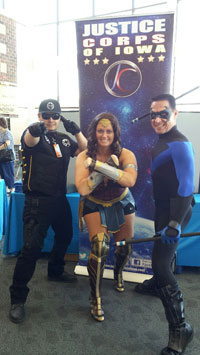 Superheroes from Justice Corps of Iowa posed for pictures with admiring, delighted children.
Everyone enjoyed a lunch of grilled hamburgers and hot dogs, chips, ice cream and delicious dessert bars baked by local friends.
Four-year-old Mara is the daughter of Lyle and Brandi Nevins of Adel. Mara was diagnosed with a brain tumor last year and had surgery, radiation, and chemotherapy.
Her oncologist is now seeking alternate treatment for Mara that may include travel to another state. All trip expenses for Mara and her parents will be paid by the foundation for as many trips as might be needed.
Tori's Angels raises funds to help the families of their supported children who have life-threatening medical conditions. The foundation pays all medical expenses not covered by insurance from the date of sponsorship.
This includes travel expenses to treatment (airfare, hotel, meals), as well as medical co-pays, deductibles, and prescription medicine.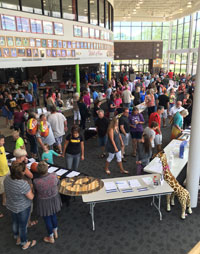 The foundation recently accepted two additional children and now supports 23 children in Central Iowa (having sponsored a total of 29 children since 2010).
Members from seven of Tori's Angels supported families attended. One parent shared later, "We were very touched to see how many people came out to support Mara and the rest of the Tori's Angels kids. You could feel the support in the room." Tori's Angels wishes to thank everyone who made this event possible-from the planning group to each donor.
Those unable to attend the benefit and who wish to donate to help Mara and other Tori's Angels children are invited to send donations to the foundation's chairman, Bill Ridgley, at 4677 Panorama Dr, Panora IA 50216.
An online donation option is located on the Tori's Angels Facebook page. Supporters can "Like" the Tori's Angels Facebook page to receive regular updates on the children.
For more information about Tori's Angels or to request an application for support, contact the foundation's chairman, Bill Ridgley, at bridgley@netins.net or 712-249-6423.