Courtesy of Adel Winterset TV & Appliance:
Do you wake up every morning with back pain? Do you have health problems related to poor circulation? Does your significant other snore? 
The problem may be with your bed! We at Adel & Winterset TV & Appliance have the largest bed showroom in Dallas County, and we have several models to choose from within your budget. 
Experiencing discomfort with a newly purchased bed? Stop in and ask us about one of our adjustable bed bases. We may just have one that works for your existing model. 
Concerned about delivery after the sale? We don't just drop off your new bed in your driveway like some of the large retailers in Des Moines. We deliver to your home, set-up your new bed for you and dispose of your old mattress for no additional charge (Within a limited area. See store for details.)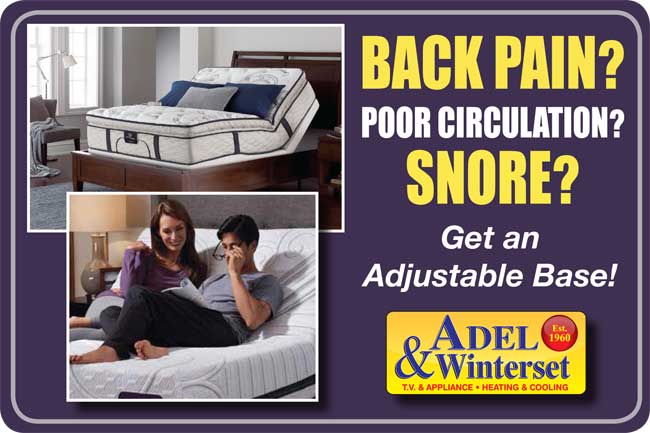 Also, for a limited time, you can receive a FREE box spring with the purchase of a Serta icomfort mattress! Stop in to our showroom at 916 Main Street in Adel today and see what we can do for you!
Adel Winterset TV and Appliance 
916 Main St. 
Adel, Iowa 50003 
Phone: (515) 993-5287 
Website: www.adelwintersettv.com
Facebook: ADTV4287