Adel Partners Chamber of Commerce:
With the official ground breaking ceremony for a new production plant EW Nutrition USA continues its successful development from the previous years.
On Wednesday August 23, 2017 the construction phase for the new manufacturing facility was launched in Adel, Iowa.
Numerous guests, as well as local politicians and business community members of the European Management Board attended the initial ceremony.
The new manufacturing site allows higher production volumes of existing product lines and development of new innovative technologies for the American market. This will result in EW Nutrition USA providing excellent jobs to the local market place.
EW Nutrition headquarters and subsidiaries Agrochemica and Humavet are located in Germany. Other locations include EW Nutrition USA (Des Moines), GRASP (Curitiba, Brazil), EW Nutrition Japan (Gifu), EW Nutrition China (Beijing), EW Nutrition South East Asia / Pacific (Singapore), EW Nutrition Turkey (Istanbul), EW Nutrition South Africa (Johannesburg), EW Nutrition Australia (Griffith NSW), EW Nutrition Poland (Puszczykowo), EW Nutrition India (Noida) and EW Nutrition Vietnam (Ho Chi Minh City).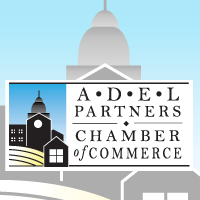 Adel Partners Chamber of Commerc
PO Box 73, 301 S.
10th Street, 2nd Floor
Adel, IA 50003
Email: chamber@AdelPartners.Org
Website: www.adelpartners.org
Facebook: AdelPartnersChamberCommerce