Opening day at Doc's Hunt Club is just six weeks away!
While time is running out…it's not too late to purchase your discounted Membership for this season and receive all the Membership perks.

Introducing…River Flat…Doc's newest field! River Flat offers hunters a prime 25 acre hunting field for their ultimate hunting adventure at Doc's Hunt Club!
Among our many improvements this summer –
Timely burning of our fields to ensure strong cover.
Improvements to field access and parking areas.
Planting food plots to keep those "extra birds" in our fields longer.
Many updates to Doc's Lodge to keep you comfortable after an adventurous day in one of our six fields!
Doc's Individual Membership offers you —
40% lower hunting rates than non-members!
Your member rates transfer to all friends, family, and clients that hunt with you!
Full use of Doc's facilities, including year round use of our remodeled Clubhouse.
Preferred scheduling for hunts and clay pigeon shooting.
Extended hunting season from September 1, 2017 through March 31, 2018.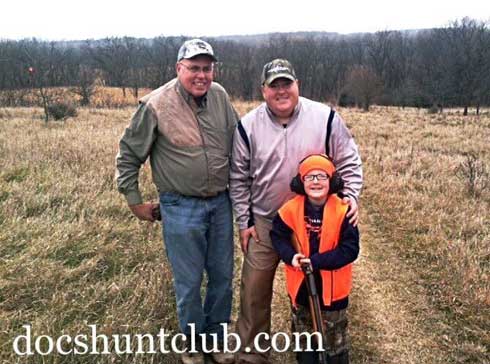 Just like summer…our discounted value rate will soon be gone, so don't miss out!
$650 ($689 with tax) if paid before July 25th, 2017
$700 ($742 with tax) if paid before August 30th, 2017
Memberships paid after August 30th are $750 (with tax $795).These rates entitle an Individual Membership to one primary user.
Call our Manager, Aaron, at 515-993-3711, purchase your membership and book your 2017 ultimate hunting experience! Let us help you plan your pheasant, quail, and chukar hunting adventures this year!
Visit our website for more information!
Doc's Hunt Club
29475 Prospect Circle
Adel, Iowa 50003
Phone: 1-800-993-3711
Website: www.docshuntclub.com
Facebook: DocsHuntClub