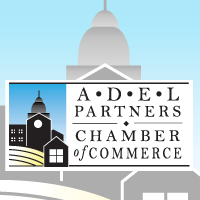 Adel Partners Chamber of Commerce:
Adel's Community Visioning Committee Seeks Resident Input Regarding Transportation Needs and Opportunities within the Community
Adel is participating in the 2017 Iowa's Living Roadways Community Visioning Program. 
Community Visioning is a transportation enhancement planning process that serves Iowa communities with a population of 10,000 or fewer residents.
The program helps community volunteers envision aesthetic and ecological improvements along roadsides and related landscapes by blending environmental stewardship with community improvement projects. Adel is one of ten communities selected to participate in this award-winning program in 2017.
At its initial meetings, the Adel Visioning Committee learned about public involvement techniques they will use during the Community Visioning process to assess local resources and identify community needs. The information gathered will be used to develop a transportation concept plan.
The next step in the process will be a focus group workshop taking place on March 25th at the First Christian Church. Residents are invited to attend the focus group that best describes them to share ideas about transportation needs and opportunities for Adel in a small group setting. Refreshments will be provided.
9:00am: Older Adults

10:00am: Parents and Children

11:00am: Mobility Impaired

1:00pm: Active Recreationist

4:00pm: Presentation of results
For more information about participating in a focus group or the overall Community Visioning process, please call Deb Bengtson, Committee Chair at (515) 993-5472 or Leslie Berckes, Trees Forever field coordinator, at 515-681-2295.
The Iowa's Living Roadways Community Visioning Program is sponsored by the Iowa Department of Transportation in partnership with Iowa State University Extension Landscape Architecture and Trees Forever, an Iowa-based nonprofit organization with a mission to plant trees and care for the environment. Since 1996, 235 Iowa communities have benefited from the Community Visioning Program.

Adel Partners Chamber of Commerce 
PO Box 73, 301 S.
10th Street, 2nd Floor 
Adel, IA 50003 
Email: chamber@AdelPartners.Org 
Website: www.adelpartners.org 
Facebook: AdelPartnersChamberOfCommerce