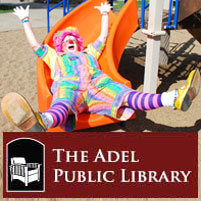 Courtesy of Adel Library:
Chip and Aunt Dot are back for another amazing magical show on Wednesday June 21st at 10:30 am.
Always a fun time for the kids!
Adel Public Library
303 S. 10th Street
Adel, Iowa 50003
Phone: 515-993-3512
Website: www.Adel Public Library
Facebook: AdelPublicLibrary
Library Hours:
Mondays and Fridays, 10 a.m. to 5 p.m.
Tuesdays through Thursdays, 10 a.m. to 7 p.m.
Saturdays, 10 a.m. to 1:30 p.m.