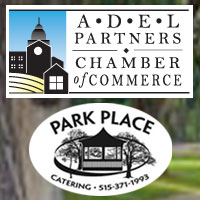 Courtesy of the Adel Partners:
The Adel Chamber will be holding a ribbon cutting ceremony at Park Place Catering (1015 Riverside Drive) at 4:30 p.m. on Friday, July 18th as part of their 5th Anniversary Celebration.
Everyone is invited and encouraged to attend the ribbon cutting and stay for an open house.
Please join us for the ribbon cutting to show your support of this Adel business!
We hope to see you there!
Park Place Catering
1015 Riverside Drive
Adel, Iowa 50003
Contact: Brenna Young
Phone: (515) 371-1993
Website: www.parkplacecatering.biz
Email: brenna@parkplacecatering.biz 
Adel Partners Chamber of Commerce
Phone: 515-993-5472
Email: chamber@adelpartners.org
Website: www.adelpartners.org
Website: AlliowaWineFestival.com