Earth Day, April 22nd, commemorates the birth of the modern environment movement. Each year, the day is marked by personal and political actions, both small and large.

Author Rachel Carson's New York Time bestseller, Silent Spring, made headlines in 1962 by raising awareness and concern for living organisms, the environment, and links between pollution and public health. The book sold more than 500,000 copies in 24 countries around the globe.
In 1969, Wisconsin Senator Gaylord Nelson sought to create a national day to focus on the environment, after witnessing a massage oil spill in Santa Barbara, California. To further his idea, Nelson tapped into the power of the youth and counter culture, holding demonstrations and protests across the country.
On April 22nd, 1970, Earth Day "brought 20 million Americans out into the spring sunshine for peaceful demonstrations in favor of environmental reform." – Jack Lewis, The Birth of EPA
These protests brought together new voices with established groups fighting uphill battles against oils spills, raw sewage, polluting factories, loss of the wilderness, and the extinction of wildlife.
Earth Day 1970 crossed the socio-economic playing field by bringing together Democrats and Republicans, the rich and the poor, old and young, big cities and small towns. This monumental alignment lead to the creation of the United States Environmental Protection Agency (EPA) and the Clean Air, Clean Water, and Endangered Species Acts. Senator Nelson was awarded the Presidential Medal of Freedom in recognition of his work. He is quoted to say "It was a gamble, but it worked."
Today, Earth Day is the largest secular observance in the world, celebrated by more than a billion people each year. – The Earth Day Network, www.EarthDay.org
This year, celebrate Earth Day in the true spirit of the tradition. Big political changes are taking place regarding the EPA, water and land rights, energy products, and wildlife protection. Take a moment to research these issues and learn how to help support your cause.
Earth Day is a great opportunity to discuss wasteful habits, volunteer to pick up debris along the highway, and spend some time simply enjoying the natural beauty of Adel's wonderful parks.
Home of Heisman Trophy Winner, Nile Kinnick
Kinnick-Feller Park is Adel's largest and oldest city park, located at 500 North 10th Street. It includes four softball fields, a football field and cinder track, tennis court, city cemetery, paved 1/2 mile fitness path, playground equipment, boat ramp to the river, benches, grills, 3 shelters, newly-renovated restrooms and a water source. Take in the beauty of tall, ancestral trees and local wildlife.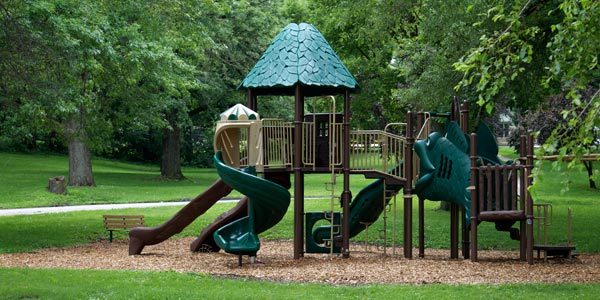 Want to do more? Join the Friends of Kinnick-Feller Riverside Park!
Dedicated to preserving history, Friends of Kinnick-Feller Riverside Park volunteer to raise money for park additions and general maintenance needs. The group is currently seeking those who can volunteer an hour or two of their time to help maintain the grounds and structures. Email the group directly on Facebook to learn how you can help preserve Adel's oldest city park.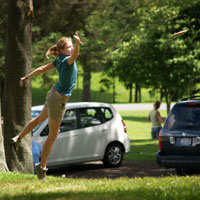 Disco Golf, Anyone?
Evans Park is located on South 12th Street.
The developed park offers a paved walking path, modern playground equipment, picnic shelter, new basketball court, 3 sand volleyball courts, and a disc golf course. Enjoy fun in the sun at this neighborhood park with plenty of open space.
Commune with Nature- Go Camping
The Island Park campground is the perfect spot for tents and mobile-home campers. The quaint park is located at 2400 Nantucket Road along the Raccoon River, lined with stunning trees and sandy shorelines. Island Park includes a water source, showers, outlets and fire pits. You will find paved roads, horseshoe pits, and a portage/boat ramp to navigate the low-head dam.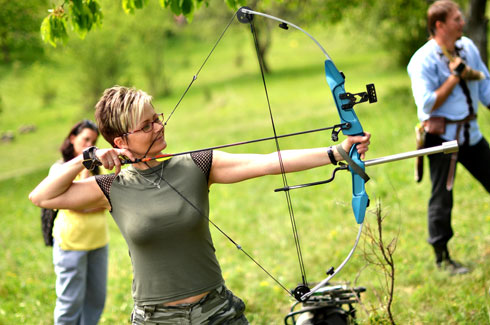 Take Aim at the Park
Adel's own Archery Course at 1505 Old Portland Road features Bull Dog Targets, picnic tables, parking area, and a portable restroom during the seasonal months. Annual Archery Range Permits are available for purchase at Adel City Hall.
Where Furry Friends Run Free
The Adel Dog Park was completed in August 2016 as a Bronze Award Project for the Adel Girl Scouts- Junior Troop 505.
This 2-acre park offers pet obstacles and a fenced-in area.
You can help keep the park clean by using the public Doggi-Pot waste receptacles on site.
Remember, all dogs must have a City of Adel pet license prior to using the facility.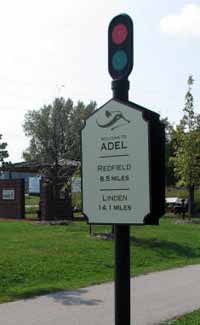 Get on your Bikes and Ride!
Located along the Raccoon River Valley Bike Trail at South 18th Street and Brickyard Road, the 3 acre Brickyard Park is the perfect place to catch your breath.
The trail stop features prairie and tree plantings, a small picnic shelter, bike rack, trash cans, and benches.
The beautiful space was made possible by the partnership of the City of Adel, United Brick and Tile Company, Dallas County Soil and Water Conservation District, and Dallas County Conservation.
You can also stop at the Pedal Plaza along Hwy 169, a recently renovated trail stop that includes an information kiosk, drinking fountain, and bike repair station. Check out the Pedal Plaza Map to find local businesses that support Trail Tourism!
Adel is proud to offer these beautiful nature retreats throughout town, plus an Archery Course, soccer complex and aquatic center under the supervision of Director Nick Schenck.
Celebrate Earth Day 2017 by volunteering. To learn how you can help, contact the Adel Parks and Recreation Office.
Adel Parks & Rec. Hours:
Mon. – Fri. 8:30 a.m. – 4:30 p.m.
301 S. 10th St.
Adel, Iowa 50003
Phone: (515) 993-4525
Email: nschenck@adeliowa.org
Facebook: Adel-Parks-and-Recreation