1201 Greene St. Adel, IA 50003 Phone: (515) 240-6455 Email:
mailpastorg@aol.com 
Lighthouse of Christ
church has recently begun renovations to a location that will house our ever expanding church. We are currently meeting in the portion of the building that we have completed. This church is affiliated with the Christian Union denomination.
1201 Greene St. Adel, Iowa 50003 Phone: (515) 314-0143 Email: 
cefofheartland@gmail.com
Website: 
www.cefheartlandchapter.org
Facebook: 
CEF-Heartland-Chapter/13291454677543
Child Evangelism Fellowship
has been established for 75 years and is still the best kept secret in America. This non-profit organization has a 3 pronged purpose, to evangelize boys and girls with the good news about Jesus Christ, disciple them in the Word of God, and establish them in a local Bible believing church. There are many opportunities for churches to get involved with the work of CEF so the time is now!
25712 Hwy 6
Adel, Iowa 50003
Phone: (515) 993-5325
Email: office@newhopeadel.org
Website: www.newhopeadel.org
Our mission is to lead people into personal relationships with Jesus Christ, help them mature spiritually, and prepare them to serve the Lord in our community and beyond. We believe that this can best be done through a relevant gospel message and loving relationships.
Meeting Needs Today, Giving Hope Forever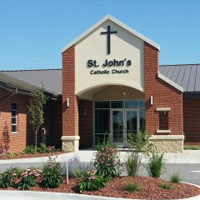 24043 302nd Place
PO Box 185
Adel, Iowa 50003
Phone: (515) 993-4482
Fax: (515) 993-3973
Website: stjohnsadel.org
Facebook: St-Johns-Catholic-Church-Adel
Email: Saintjc3@aol.com
St. John's Parish, A Parish of The Roman Catholic Diocese of Des Moines, Iowa
23932 Meadow Rd
Adel, IA 50003
Phone: (515) 993-4766
Website: www.gracelutheranadel.org
702 Nile Kinnick Dr. S.
Adel, IA 50003
Phone: (515) 993-3418
218 N 9th St
Adel, IA 50003
Phone: (515) 993-1040
Website: www.firstchristianadel.org
602 S 14th St
Adel, IA 50003
Phone: (515) 993-3848
Website: faithadel.com