609 Court St.
Adel, Iowa 50003
Phone: (515) 971-9680
Email: info@graficsinc.com
Website: www.graficsinc.com


G.Rafics Inc. specializes in building professional, custom websites for small businesses.  We provide free, personal consultations and work with you to build the site you need to meet your business and marketing goals.  Search engine optimization is included with every site we build and domain name registration is included when we host your site.
1509 South 14th St.
PO Box 115
Adel, IA 50003
Phone: 515-993-4852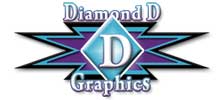 34423 L Ave
Adel, IA 50003
Phone: 515-238-9314
Email: diamonddgraphics@gmail.com
Website: www.diamonddgraphics.com
Facebook: DiamondDGraphics
Diamond D Graphics is an equine graphic design small business located in Central Iowa. We can create any custom graphics for any type of project.Diamond D Graphic's graphic design services cover the gamut; from print design to web design. The fact that we can design a theme for your business and produce that creative theme for all of your marketing materials (business cards, print ads, website graphics) makes Diamond D Graphics your one-stop-graphic design-shop!