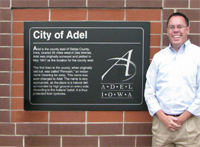 Join us Wednesday, June 9th at 6pm to meet the project manager from Manatt's, Inc. at Adel City Hall.
The meeting will include discussion of the overall approach of the project, scheduling, and phasing.
There will also be a Question and Answer session.
Wednesday afternoon contractor and city representatives will be conducting a walk through of the project area. They hope to stop in and meet each business/ building owner.
Stay tuned for details about a historic ground breaking ceremony to commemorate the project!
Chad A. Bird
City Administrator
City of Adel
515-993-4525