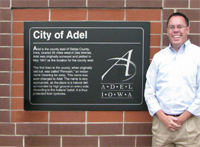 Thursday, April 28th, the City will hold another Brick Street Communication meeting.
The meeting will be held at 6:00pm at the City Hall Council Chambers.
The agenda will include discussion on sidewalk reconstruction, construction start dates, and early discussions on Memory Lane. Everyone is welcome and your questions are encouraged!
Chad A. Bird
City Administrator
City of Adel
515-993-4525
Fax 515-993-4527