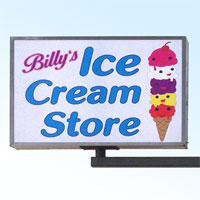 Courtesy of Billy's Ice Cream Store:
Billy's Ice Cream Store will be open until December 17th.
New Hours of Wed – Sun: Noont -8 pm.
We are very excited for the opportunity to continue to serve the Adel community during the holiday season.
Stop in and try one of our new fall treats, like a Pumpkin Chilly Billy or Apple Crumb Chilly Billy, and Lemon soft serve!
Billy's Ice Cream Store
308 Nile Kinnick Dr. S
Adel, Iowa 50003
Facebook: Billys-Ice-Cream-Store