Courtesy of Base®:
BASE® staff donated around 900 food items and $412.43 to the Good Samaritan Food Pantry of Adel to support children's lunches for families in our community.
Donations included breakfast and lunch items perfect for school aged kids to enjoy during their summer months at home.
BASE® employees strongly believe in supporting their local community. Michella Drummond, an employee at BASE®, states the importance of volunteering.
"The power behind volunteering and being involved in the community is a strong one. Volunteering shows that you are willing to give your time to be a part of something bigger than you or your business. The satisfaction and pride that come from helping others are important reasons to volunteer. When you commit your time and effort to your community or a cause that you feel strongly about, the feeling of fulfillment can be endless," she said.
BASE® staff started bringing donations to the office at the beginning of June, collecting almost 900 items in less than a month. BASE® is a longtime supporter of the Adel Food Pantry and was eager to be involved again in 2017. Jodi Benetti, Director of Sales and Customer Service at BASE®, shares why BASE® wanted to be involved with this great cause.
"BASE® has continued to show support to the local food pantry because "Community" is one of our Core Values. Our employees feel strongly about helping people, especially children, in our community. We are very proud, as an organization, to be able to make a difference," she said.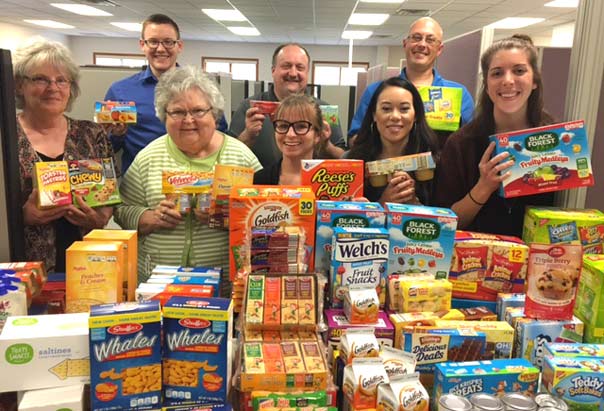 The donations help hungry children around the community for the times they need meals when not at school. Currently, they are helping support 50 children from the ADM School district, providing them each with 21 meals per week. During the school year they help over 100 school aged children.
Outgrowing the space, the Adel Food Pantry moved to a new facility earlier this year, located in the old Adel Middle School Lunchroom at 215 North 11th Street. Celia McCollum, manager of the Adel Food Pantry, shares why this is a benefit to the community.
"We moved to our new facility in January 2017. It has allowed us to have more product on hand so we can plan our ordering better and not have to run out. This allows us to serve our people more quickly and our volunteers have an easier time," she said.
The Food Pantry is always looking for assistance and donations from the community to support those in need.
Base
601 Visions Pkwy
Adel, Iowa 50003
Phone: (515) 993-5050
Website: www.baseonline.com
Good Samaritan Food Pantry of Adel
215 N. 11th St.
Adel, Iowa 50003
Phone: (515) 423-0753
Website: www.adelfoodpantry.com
Facebook: Good-Samaritan-Food-Pantry