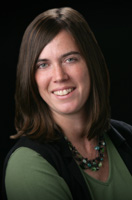 Adel author Colleen Bradford Krantz, whose new book was released this month, will be at Brick Street Books and Cafe on the morning of Friday, June 17th.
Come in for muffins, coffee and a chat after stopping at the Van and Bonnie radio show event on that same stretch of Main Street.
The book, "Train to Nowhere; Inside an Immigrant Death Investigation," tells the full story behind the 2002 deaths of eleven Central Americans and Mexicans whose bodies were found inside a railcar in Denison, Iowa.
Brick Street Books will have copies of the book for sale, which can be signed.
Krantz, who spent a decade as a newspaper reporter, will be there from 8 to 10 a.m.
Brick Street Books and Cafe
803 1/2 Main St.
Adel, Iowa 50010
Phone: (515) 993-1811
Fax: (515) 993-4975
Website: www.OptimaeLifeservices.com