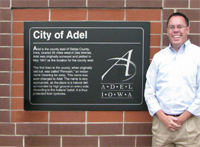 Courtesy of Chad Bird, City Administrator
Chamber / City Brick Street Meeting for Business Owners
August 12, 2010 6:00pm
Questions, comments, and discussions:
Work begins on 9th Street
1) Demolition work will begin on 9th Street at 6:30am Monday, August 16th. The sidewalk on the west side of 9th Street will remain open for pedestrian use while the street and sidewalk on the east side of 9th Street will be closed to the public for removal. Access to businesses and apartment doorways will be available at all times.
2) The sidewalk work on Main Street, west of 9th Street will also begin on Monday. The north sidewalk work will begin first as there are storm drainage improvements that need to be made prior to other work. The south side of Main Street sidewalk work will not begin until the north side is completed.
3) Regarding construction on 9th Street – work will begin at the intersection with Prairie Street and progress to the north. Work flow will generally be a south to north pattern.
Phase I of the Project
4) Main Street and Court Street will open for pedestrian traffic for this weekend's Adel Sweet Corn Festival. Those streets will also open for vehicular traffic beginning Monday morning. Traffic and parking will be available beginning Monday – please pay attention to specific cones or directional signage on those streets.
5) Brick pallets and remaining equipment will be secured on the Courthouse lawn for the Festival weekend.
Thanks again for your understanding and cooperation – please contact Chad for questions and comments.
Chad A. Bird
City Administrator
City of Adel
515-993-4525
Fax 515-993-4527
cbird@adeliowa.org