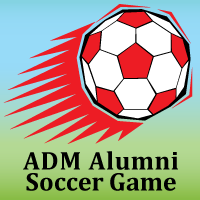 Courtesy of ADM Alumni Association
The ADM Alumni Association Alumni Soccer Game is Scheduled and Looking for Players.
The alumni soccer game will be played Friday, August 11th, at the Island Park.
The Women will kick off at 6:00 p.m. and the Men will go at it at 8:00 p.m.
Those alumni that are interested in playing, please contact Troy Swigert at troy.swigert@gmail.com (515-664-5885) for additional information.
ADM Alumni Association
P.O. Box 122
Adel, Iowa 50003
Website: www.admalumni.com