Brake for great NAPA deals all month at Adel Auto Parts!
Save up to $50 by mail from NAPA Brakes with qualifying purchases of brake pads/shoes and rotors/ drums.
Make that brake job easier with a can of CRC Brakleen Brake Parts Cleaner, on sale for just $2.69.
Take advantage of the nice weather and spruce up your ride with Armor All! Perfect for cleaning and protecting glass, leather, and more. On sale May 1st-31st.
John and the crew are Celebrating 16 years in business! Check out their Specials Page for added Savings!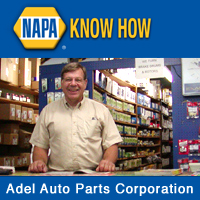 Adel Auto Parts Corporation
809 Main Street • Adel, Iowa 50003
Phone: 515-993-3212
Perry Auto Parts
1001 3rd. Street * Perry,Iowa 50220
Phone: 515-465-4615
Hours:
Monday – Friday 7:30 am – 5:30 pm
Saturday 8:00 am – 3:00 pm
Website: www.AdelAutoParts.com