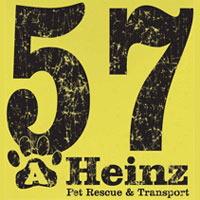 Courtesy of AHeinz 57 Ruff Ride:
AHeinz57 Aids in the Rescue of 15 Dogs from a hoarder in Southern Iowa 
AHeinz57 Pet Rescue and Transport was called to assist with the surrender, assessment, and care of 15 dogs from a property in southern Iowa.  
"Thankfully they were found by a family member before they died of neglect," said Amy Heinz, Executive Director of AHeinz57.  
The dogs, who were matted beyond recognition, required extensive grooming and all will require medical care.

"We were able to take the ones needing the most medical care and oldest- a total of six. The others were taken in by other rescues," said Heinz.
The dogs have been placed in foster homes and are currently undergoing medical treatment for various issues including mammary tumors and rotting, infected teeth and jaws.  All will be spayed/neutered, vaccinated and tested for heartworm. 
AHeinz57 is seeking donations to help pay for their medical care. Donations can be made online at www.aheinz57.com.
AHeinz57 Pet Rescue & Transport
Phone: (515) 207-3233 (answering machine)
Website: www.aheinz57.com
Facebook: www.facebook.com/AHeinz57Pets