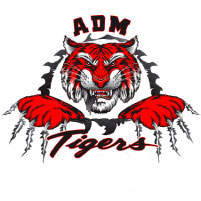 The Adel DeSoto Minburn Football Team overcame the rain and a trailing 1st half  to beat Pella with a 25-13 win in Round 3 of the State Playoffs.
The win takes the Tigers (12-0) to the State Semifinals at the UNI-Dome where they play Union of LaPorte City (10-2).
Monday, Nov 14, 2011
Time 7:30 .pm.
UNI Stadium, Cedar Falls, Iowa
Once a Tiger, always a Tiger!
ADM School District
801 Nile Kinnick Dr S
Adel, Iowa 50003
Phone: (515) 993-4283
Website: www.adel.k12.ia.us